Branch Blog - Dr. Sketchy's HQ
Sat, April 23, 2011 • Dr. Sketchy's Welcomes Alexandra Klasinski!
Dr. Sketchy's HQ is proud to introduce the newest member to our team, Alexandra Klasinski.
Alexandra has done everything, from designing records, to working with the Magnetic Fields, and most recently, spending the past 4 years heading up the US Online Department at Lomography. She also likes gin & rompers. She is now Dr. Sketchy's new head of Business Development, specializing in cultivating relationships with potential sponsors, advertisers and producing collaborations between Dr. Sketchy's & like-minded companies. If you would like to contact her, you may reach her at
[email protected]
. Whoohoo!
RSS
NYC Events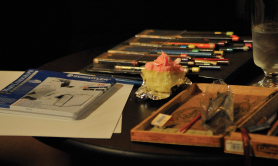 Art Tumblr
https://vimeo.com/81362468