Branch Blog - Richmond, VA
Thu, January 31, 2013 • Dr.Sketchy's RVA Presents: Love Buffé
Hello 'Art Monkeys' !!! Dr. Sketchy's RVA is stoked to bring you the latest heartthrob of a model for our February session...


Puppie Buffé!!! ...Richmond's pinup model, bellydancer, burlesque dancer, and fire performer extraordinaire!
This lovely lady will be portraying a variety of pin-up poses for your lonesome valentine's day heart - because we know you are too busy stuck in a cave drawing your own little heart out. So put down those chocolates and make your way over to draw this adorable darling!
Join Headmistress & hostess Deanna Danger with her ~new~ partner in crime Brit Austin of BLA Illustration on Wednesday February 20th from 6-9pm at Strange Matter (929 W. Grace St., RVA). Admission is only $7, or $5 w/ student ID! Seating has been filling up quick in our sessions, be sure to get there early to get a good spot!
As always, one free Dr. Sketchy pass given away as a door prize! We'll also have 3 drawing contests for you to try your hand at winning some fabulous prizes!
***Sponsored by BLA Illustration- The Art of Brit Austin!
Get those pencils sharpened Richmond, we'll see you there!
Photo courtesy Dave Parrish
Poster by BLA Illustration
Vintage motif by beinspyred
~~~~~~~~~~~~~~~~~~~~~~~~~~~~~~~~~~~~~~~~~~
*Bring your own drawing supplies!
*Seating is first come first serve, and drawing will begin PROMPTLY at 6pm.
*By attending the event, you are agreeing that you or your art may be photographed.
*Personal photography is only permitted from your seat as reference photos (no flash please).
*Tag us in scans of your work afterward! We're here to promote you too!
http://www.drsketchy.com
http://www.drsketchy.com/branch/Richmond
http://www.deannadanger.com
http://www.blaillustration.com
http://www.strangematterrva.com
RSS
NYC Events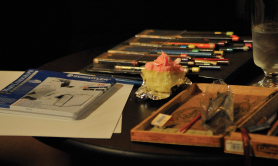 Art Tumblr
Dr Sketchy's LA 12/3/13 (pt. 1)
artofach.blogspot.com
http://drsketchy.tumblr.com/post/69132640329