Branch Blog - Richmond, VA
Fri, May 10, 2013 • Dr.Sketchy's RVA Presents: The Ringmistress Madam


Hello Art Monkeys!!! Dr. Sketchy's RVA is gleefully excited to present the hardest working woman in show business…
MADAME ONCA!!!
This amazing Renaissance woman does it all – international torchsinger, artist, aurthor, bellydancer, and producer of TribOriginal: Tribal Dance, Music & Culture Camp and ABSfest: the Americana Burlesque & Sideshow Festival. She has traveled extensively as a solo artist with both the Mezmer Society and the Accidental Circus. This year, she is going above and beyond to bring Virginia a sprinkling of the burlesque world with its first ever, Virginia Burlesque and Sideshow Festival! Come draw this multi-talented ringmistress!
Join our headmistress Deanna Danger and artistic mistress Brit Austin of BLA Illustration on Wednesday May 15h from 6-9pm at Strange Matter (929 W. Grace St., RVA). Admission is only $7, or $5 w/ student ID! Seating has been filling up quick in our sessions, be sure to get there early to get a good spot!
As always, one free Dr. Sketchy pass given away as a door prize! We'll also have 3 drawing contests for you to try your hand at winning some fabulous prizes!
***Sponsored by BLA Illustration- The Art of Brit Austin
Get those pencils sharpened Richmond, we'll see you there!
For more info on the Virginia Burlesque and Sideshow Festival:
http://www.virginiaburlesque.com
http://www.facebook.com/vaburlesqueandsideshow
Photo courtesy Jay Paul
Poster by BLA Illustration
~~~~~~~~~~~~~~~~~~~~~~~~~~~~~~~~~~~~~~~~~~
*Bring your own drawing supplies!
*Seating is first come first serve, and drawing will begin PROMPTLY at 6pm.
*By attending the event, you are agreeing that you or your art may be photographed.
*Personal photography is only permitted from your seat as reference photos (no flash please).
*Tag us in scans of your work afterward! We're here to promote you too!
http://www.drsketchy.com
http://www.drsketchy.com/branch/Richmond
http://www.deannadanger.com
http://www.blaillustration.com
http://www.hardestworkingwomaninshowbusiness.com
http://www.virginiaburlesque.com
http://www.strangematterrva.com
RSS
NYC Events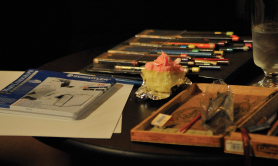 Art Tumblr
https://vimeo.com/81362468