Branch Blog - Cleveland Ohio
Mon, June 10, 2013 • Dr Sketchy Cleveland HP Lovecraft Sketchy Style!
Hello, gang!! we are back at the ballroom with our great friend brand new model, the Lovely Selena Felien!! We will see if the elder gods will be smiling on us... can they smile... as we have a night of Lovecraftian drawing with the ever so awesome Selena!
Come on out as always prizes and contests galore!!
we will open the doors at 7:30 and Selena Will start posing at 8pm! There will be shot contests and plenty of other tomfoolery to go around!
As always $10 at the door!
RSS
NYC Events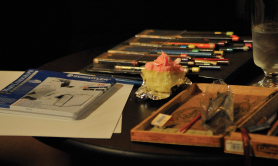 Art Tumblr
Dr Sketchy's LA 12/3/13 (pt. 1)
artofach.blogspot.com
http://drsketchy.tumblr.com/post/69132640329