Branch Blog - Nelson, New Zealand
Mon, August 01, 2011 • Dr Sketchy Nelson presents A Night in Cherry's Boudoir.
What goes on inside a Burly-Q babes private boudoir?? Well - for one night we were privvy to Cherry Royales sanctuary !! The thing we saw!! The things we sketched!! Inspiring, Stunning and Curvalicious!!! Thanks to Cherry Royale for posing and performing for us!!
Thanks to all who came along and also to our amazing venue Baby G's Lounge
Stay tuned as Next month we're getting Bended on Gender!!! xx
RSS
NYC Events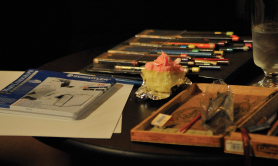 Art Tumblr
Dr Sketchy's LA 12/3/13 (pt. 1)
artofach.blogspot.com
http://drsketchy.tumblr.com/post/69132640329