Branch Blog - Newcastle Upon Tyne, UK
Thu, June 09, 2011 • Dr Sketchy Newcastle RETURNS!
Following the huge success of the FIRST Newcastle event, we're back THIS MONTH!
In this 'Summer Holiday' Special Sketchy's, you can expect several warm up poses to get those doodling skills on the go, competitions, games , raffles and maybe even prizes. A peppering of performances and invite the performers to sit for longer poses leading into a short break where you can top up on the amazing food and drinks that Barkollo have to offer (seriously super tasty!) With a full summer themed set, you'll have a chance to stretch those art monkey skills to the max! Starring **Mistress Wooh** - Modelling With a summery homage to the late great Poly Styrene featuring seaside kink & beach towel action! **Dahlia Seymour** - Modelling & Performing Economy Airfare has never been SO wonderful! Join our Skyward Steward as she takes you on the flight of a lifetime! **Leggy Pee** - Modelling & Performing "Spoonertastically named chanteuse" Raised in the cornfields of a vivid imagination, Miss Leggy Pee employs charm, an endearing personality and a winning smile to warm hearts and raise laughter, that is, with her unique performances 'channeling the spirit' of the late, great Peggy Lee. (Here at FK Towers we're HUGELY excited to finally be able to bring Leggy down to Newcastle - we ♥ her hard!) Hosted by **Amelie Soleil** "Britain's Tinest Tease" Tickets on sale NOW via paypal at
http://www.drsketchy.com/branch/newcastle
AND www.frayedknot.org.uk £6 adv and £8 on the door. (make sure you bring your paypal reciept with you on the day as proof of purchase) It's here. It's happening. It's Dr Sketchy Newcastle… Spread the word...
RSS
NYC Events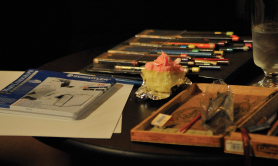 Art Tumblr
https://vimeo.com/81362468