Branch Blog - Newcastle Upon Tyne, UK
Wed, March 30, 2011 • Dr Sketchy Newcastle Sponsors & Stalls Announced!
It's THIS SUNDAY folks! If you haven't got your tickets yet for the event go quickly now now £6 until midnight Friday then £8 on the door
Buy Tickets Now!
But for now look at our lovely sponsors and stalls! First up, we have ethical geniuses and all round wonderful smelling LUSH COSMETICS specifically the Newcastle branch with the support of Jenny 'Wooh' and Jo. They'll be giving demo's of 'Lovely Jubblies' to enhance those all important life drawing essentials (!) and 'Silky Stockings' for all pin up girls. We'll also have prizes from Lush for the audience and gifts for the models!
www.lush.co.uk
With a stall and providing prizes for the audience is local deliciousness CANDY HANDFULS BOUTIQUE BAKERY. High quality and ethically sourced ingredients, Candy Handfulls fits in perfectly with our greentastic sessions and can offer a mean sugar-tastic treat for all and every event. Yum!
www.candyhandfuls.co.uk
Especially for kookie cuties & rockin' chicks, BUBBLEGUM VEGAS is a Newcastle based jewellery and accesories company that we're big fans of. With a stall on the day and a special prize for the main competitions.
www.bubblegumvegas.co.uk
Dr Sketchy Newcastle
are also sponsored by
Baby Tattoo
and
Dave Dent Printers
RSS
NYC Events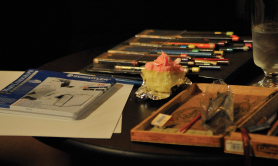 Art Tumblr
Dr Sketchy's LA 12/3/13 (pt. 1)
artofach.blogspot.com
http://drsketchy.tumblr.com/post/69132640329