Fri, June 24, 2011 • DR SKETCHY SWFL INVADES FORT MYERS ART WALK! (FREE EVENT)
Come Draw with me! Artists of all skill levels welcome and encouraged! We will be having an informal Dr. Sketchy Event in front of the Sidney and Berne Davis Art Center in the Downtown Fort Myers River District…We'll be doing 5 minute poses during the Art Walk. Bring your art supplies (iPads/iPods Welcome) and lets meet up for a little impromptu sketching session. I'll be bringing some extra paper and pencils for anyone who feels like just stopping by. This will be a free event but I will be putting out a Tip Jar so anything you can throw in will go toward Paying the Model and the extra Paper/Pencil supplies as well as a portion to the Art Center. Come make Art and Support the Arts! Art Walk runs from 6-10pm on July 1st in Downtown Fort Myers - Feel free to come and go as you please, our event is open and informal and we encourage you to check out the rest of Art Walk (there's a LOT to see)! The Sidney & Berne Davis Art Center will be hosting a gallery showing this month is called "Island Times" featuring a show of Key West artists. Our Model for the Evening will be the Talented Cassandra M Nuss.
Cassandra is a Multi-Disciplinary Artist specializing in musical theatre, theatre, commercials, and modeling. She is currently trying to expand into the world of film and television. She is SAG Eligible and a proud Actor's Equity Membership Candidate. She has modeled with Over 50 Photographers since her move to Los Angeles in early 2008. Cassandra has performed professionally at several theaters throughout the Midwest including Timber Lake Playhouse and Thin Air Theatre Company. She also has a strong standing relationship with Plan-B Entertainment on the West Coast and has worked with several theaters and directors out there as well. She has been involved in one touring production and looks forward to working with Prather Entertainment in Florida in 2011. Cassandra plans to be fully ensconced back in Los Angeles by Fall 2011. Come sketch this Uber-Talented model before she leaves South West Florida!
Follow us on Twitter for the latest up to the second updates via twitter @DrSketchySWFL Don't forget, Dr Sketchy's SWFL is also making plans to start a monthly event in Downtown Fort Myers so please spread the word to any local artists - if you know of any cool venues to host us be sure to let me know! RSVP on our Facebook Page:
http://www.facebook.com/event.php?eid=109573175802381
* * * * We will also be giving away prizes as well as having an online contest for anyone who posts their art and photos from the evening on our Facebook Wall…details on that later. Don't forget! Our regularly scheduled Dr. Sketchy's event will be July 6th at the Torch Bistro featuring Tiger Queen in our Tribute to Tank Girl!
RSS
NYC Events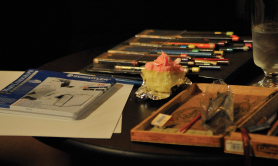 Art Tumblr
Dr Sketchy's LA 12/3/13 (pt. 1)
artofach.blogspot.com
http://drsketchy.tumblr.com/post/69132640329