Branch Blog - Birmingham, United Kingdom
Wed, March 21, 2012 • Dr Sketchy's Anti-art School Birmingham presents 'Comic Book Capers' 31.03.12
Dr Sketchy's Anti-art School Birmigham presents 'Comic Book Capers'
Come and join us for more fun and frolics of a boozey, burlesque and arty kind!
Our line up for our homage to the cartoon and comic book world can now be announced....

Parma Violet - Harley Quinn act
Velma Von Bon Bon - Super Girl inspired act
Ivy Wilde - Poison Ivy act
Tiffany Beau posing and stage managing - Sally Jupiter from the Watchmen
Fleur Du Mal - posing as Rogue from the X Men
With our larger than life compere, singer and real live Jessica Rabbit - its Liberty Pink!
Our special guest is body painter extra-ordinaire - John Carey
Our super hero DJ will be spinning Comic Book themed tracks for your amusement and as you sketch!
And all this only a few feet away from the bar...
Doors open at 3.30pm
Tickets cost £10
Show finishes at 7.00pm
Upstairs ar the Victoria Pub on John Bright Street Birmingham close to the Alexandra Theatre...and opposite the Mail Box.
See you there, you beautiful art monkeys you!
Candee xxx

Many thanks to Steve Pledger for the poster!!! xxx
RSS
NYC Events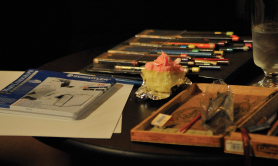 Art Tumblr
Dr Sketchy LA 12-3-13
http://drsketchy.tumblr.com/post/69027079376