Thu, January 06, 2011 • Dr Sketchy's SWFL Kicks of the New Year with Lynx & Tiger Queen
If you were unable to attend the January 2011 Post New Years Dr Sketchy event, you sure missed a doozy!
We had the pleasure of not one but TWO beautiful Muses inspiring us in lavish Burlesque inspired costumes. Special thanks to Lynx and Tiger Queen for keeping us sketching feaverishly, and thank you to Eric D. Wertheimer Photography for coming out to photograph the event.
Click here to view these pictures larger
View the Official Website for the evenings photography at: http://anightatdrsketchys.shutterfly.com/
Hope to see you Next Month!
RSS
NYC Events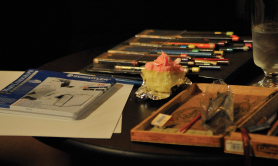 Art Tumblr
https://vimeo.com/81362468