Branch Blog - New York, NY
Tue, October 02, 2007 • Drawin' in the Boy's Room
Summer is over, and now it's time for apple-cheeked youngsters to learn how to sit still and not fail too badly! Time for that amusing Staples commerical to return! Time for fresh promises of a new year to be crushed under the wheels of fate! it's time to go back to school!
Dr. Sketchy's Anti-Art School, that is.
I know we're the "cool" school, but we're still a place of learning! And you will treat that with a certian measure of *respect*. Now lets all simmer down and act our age and give a *respectful* welcome to your new teacher, Akynos!
I bet she grades on a curve.
Akynos, who is more force of nature than mere woman, deemed to teach us some harsh lessons in the art of amazing modeling!
Hosted by Molly Crabapple and John Leavitt, dropouts.
It's like an all School class Assemby of Sexy!
One person laughed at the DNE. Sigh….
Photos by Dr. Simon, Truant Officer and Ryan Roman, Hall Monitor.
"Don't staaaand so close to meeeee…"
I've seen consistantly better work at every Dr. Sketchy's than all my time at Art School combined. No seriously.
I mean, look!
I mean c'mon! And they're drawing on notebook paper!
It was one of the contests, since we assumed that everyone in the crowd has gotten a dirty look from a teacher due to in-class drawing. We were not wrong.
Ahh, heavy metal font, we meet again.
The bright light hitting my face makes me think that I'm about to impart a lesson on the Purity Of Art and the Importance Of Learning, but really I'm just sweaty and drunk.
Speakinf of drunk …the winner of the drinking contest downs a shot of vodka in a teacup. Nothing says "school" like covert alcoholism, ask any english teacher!
Dr. Simon made us a blackboard! It got filled up rather quickly.
Oh you minx. We're all PR whores there! Thats http://www.akynos.com! Akynos.com! Aky-BrrrrRING
RING!
Wait! the bell is for me, not you.
Ahem
Class dismissed! Come back for Prom, The Salon, and more videos, or else!
Thanks to Akynos, The Lucky Cat, Dr. Simon, Ryan Roman, Steve Walker, Syd Bernstein, and Art Monkeys Everywhere. You're ALL at the head of the class.
-JL
-----
RSS
NYC Events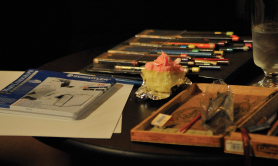 Art Tumblr
Dr Sketchy's LA 12/3/13 (pt. 1)
artofach.blogspot.com
http://drsketchy.tumblr.com/post/69132640329