Branch Blog - Minneapolis, MN
Mon, August 08, 2011 • Drawing Abroad
Hello Dr. Sketchy-ers! My name is Katherine, I am Ms. Flame's pet code monkey and your humble web-mistress. I do my best to keep this site up to date so you can always see the fun things that go on at the 331 Club during the 4th Sunday of every month. I would like to supplement the usual posts about our sessions with a little adventure of my own
A few months ago, I was able to take a bit of a vacation from life and while exploring Europe I had the honor of attending a Dr. Sketchy's in the far away land of Hamburg, Germany. The location was the 439 Bar in the northern part of town in the middle of a residential area and the host was the fabulous Hedo Luxe. My travel partner and I were getting ready to hop a train to Berlin, but before we left I was determined to experience what other branches did with the Dr. Sketchy's concept, even if it meant catching the last possible train (which is generally a terrible idea and should be avoided at all costs).
439 Bar, yes the sign is upside-down
The Bar
FIRE!!!! anything with fire makes me happy...
Although it wasn't a terrible hindrance, I missed the whole introduction besides my name and Minneapolis because I don't speak a lick of German. But Hedo Luxe was a wonderful host and wore the most spectacular costume so I didn't care too much! He even played Prince for us to make us fee at home.
Hedo Luxe himself!
We were blessed with two models that day that took turns posing for us. The stage was set up between the bar counter tops which gave almost everyone a good view to work from. The first model had a nautical theme, which seemed appropriate to us because Hamburg is a harbor city and we had just learned a lot about the city's growth because of trade and the creation of the new Harbor City within Hamburg. The second model was wearing a cute, lacy black combination with flowers in her hair, holding a feather teaser…but don't let me get away with just describing them…enjoy some pictures!
Lady Sailor
Lady in Black, she made flirty eyes with me A LOT. so cute
By the end I had a few fun sketches to commemorate the evening and entertain me for the train ride to Berlin while I colored them in. I may or may not have purchased these pasties too… They are pretty much the most amazing souvenirs one can buy on vacation!
Pasties by Hedo Luxe
Next time you're on vacation, near or far, remember to use the branch look-up on the website to see if there are any Dr. Sketchy's events going on near you. You are sure to meet some great people and it might be the perfect way to get away from feeling like a tourist…
RSS
NYC Events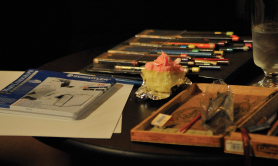 Art Tumblr
Dr Sketchy's LA 12/3/13 (pt. 1)
artofach.blogspot.com
http://drsketchy.tumblr.com/post/69132640329