Branch Blog - New York, NY
Wed, March 08, 2006 • Drawing on the edge (of a plastic sword).
Hello Art Monkeys!
The MTA, in all it's benveolent wisdom, decided to shut down the L train for the entire weekend. That left us stranded in Williamsburgh with nothing to do but drink and draw beautiful women. Que Horreur!
Now we at Dr. Sketchy's love new and inventive themes, Clown girl, Lion and Tamer, Glamourpuss, ect. But some themes are so basic, so primal, that you can't go long without giving into the collective unconcious.
Which is why this week, we at Dr. Sketchy gave you the sublime and timeless beauty of ….Girls with Swords.
Well, one girl at least. The illustrous illustrator Daeta, bewitching in a leather fringe bikini and samuari sword, got a chance to see what it's like on the other side of the model stand. It was intense, at least half of the male audience had fervish "Heavy Metal" flashbacks and required medical booze.
In another news, we have couches! COUCHES!
Lots of people come to Dr. Sketchy's. Blonde people. Girl People. Overly Serious Looking People. Espically that last shot, I look like I should be commanding an army of zombies in a 1970s grindhouse.
The darling Ms. Molly Crabapple, overseeing the judging of "Best Left Handed Drawing"
The Winner oF Best Incorperation Of an MTA worker enjoying his victory, a burning shot of Sambuca.
Last week we had Kate of BadButtons.com turn the winners' artwork into buttons. This week however, we forced the "winner" to pose with Daeta. No use trying to explain it, just look.
Thanks to the Lucky Cat for putting us with us. Thanks to Daeta for allowing us to gawk at her. Thanks to Gary Winter for yet more faboo photos, and thanks to monologist Syd Bernstien for being our
sacrifical lamb and upping the perversity factor a notch.
Coming up, Roller Derby Bad Girl Joey Hardcore!
She's some rock and roll fun, baby.
Saturday, March 18
3pm-6pm
6 dollars-(12 if you want a special seat reserved.)
Lucky Cat Lounge
245 Grand St, btw Driggs and Roebling, Williamsburg
-J. Leavitt
RSS
NYC Events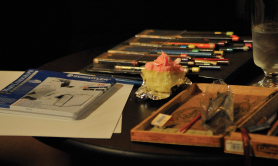 Art Tumblr
https://vimeo.com/81362468