Branch Blog - New York, NY
Tue, July 05, 2011 • Electric Vampirella
Velcome, Art Monkeys!
In Slavic folklore, as we all know, a vampire (or "vampir," or "varkolak" if you're Bulgarian, or "vampyre" if you're bad at spelling) is a malevolent spirit of the restless dead that feeds off of the living. Though noncorporeal, vampires can inhabit the bodies of corpses. In the 19th century, vampires found that they could gain the trust of humans by disguising themselves as European noblemen such as Lord Byron or Prince Vladislaus Dracula III. They were so successful in garnering the esteem of the living that by the 21st century, vampires were able to convince teenage girls that they were their true loves, despite treating them like dirt and constantly talking about wanting to kill and devour them.
This has nothing to do with Vampirella, who is an alien from the planet Draculon, where the inhabitants (Vampiri) feed from the rivers of blood. Last week, Vampirella was kind enough to inhabit the body of Delysia LaChatte. Against all odds, Kate Black took photographs.
Vampirella carries a cross so that when she dies, she doesn't come back as a double vampire or something.
In this clearly symbolic scene, Delysia sucks the marrow from the bones of Aradia Ardor's mortality.
Even reclining, Vampirella is ready to pounce.
Here are some entries to our newest traditional opening contest, the single-line drawing contest, where the artists can't lift their pens from the paper.
Backstage, Delysia displays a small fraction of Vampirella's shape changing power.
These are photographs of a vampire looking in a mirror. Pardon me if I just blew your mind!
When Vampirella begins taking off her clothes, it is already too late.
How can you not love a smile like that?
This drawing won our contest to produce the gayest drawing, in celebration of Pride Day, to show solidarity with those who express their sexuality in parades on the street rather than onstage at life drawing courses.
The winner received a bird from Squishable, whose sexual orientation is as yet undeclared.
If you think our audience is beautiful, of course you're right, but you should see their art.
As a matter of fact, here's some of it.
And a special spotlight on Yao, because we apparently love her more than other people.
Fun Fact: That outfit was actually white before Vampirella's lunchtime.
To celebrate the legalization of marriage between like-gendered people, we brought in our friend Mox to act as Vampirella's mate for the final pose. We asked our audience to come up with their own ideas of a mate for Vampirella.
Yao chose Melissa.
Melanie chose Evil-Lyn.
The winners got liquor, which is what you traditionally give to women who you want to make out.
And that is it for this session. Thank you Melissa, Kate, Foley, Yao, Dennis, Keith, Deb, and Mox.
- Syd Bernstein
RSS
NYC Events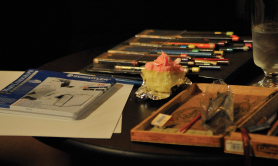 Art Tumblr