Branch Blog - New York, NY
Fri, February 11, 2011 • Endless Love
Greetings, Sand-Freaks and Necro-Nerds!
I am still giddy from our last session, where we did a tribute to Neil Gaiman's great gift to graphic literature and serialized story-telling The Sandman. The titular Sandman was not represented (as he wasn't for the bulk of the comic, in fact), but we did have models channeling five of his siblings, the Endless - Death, Desire, Delirium, Destiny, and Destruction. I was Destiny. There is no photographic evidence of this, but if you flip a few pages back in Destiny's book, there is an account of me chaining a book to my wrist, then having to unchain it so that I could put my robe on, then chaining it back. As for the Endless that anyone cares about, Lauren Goldberg has provided pictures of Stoya, Johnny Blazes, and Tess Aquarium as Death, Desire, and Delirium respectively.
For anthropomorphic representations of abstract concepts, they sure are hot.
"Death is the mother of beauty; hence from her,
Alone, shall come fulfilment to our dreams
And our desires."
- Wallace Stevens, "Sunday Morning"
It's kind of a loose interpretation of the Velvet Underground song, but I think the point stands.
"I know you want me. I know everything you want. I am Desire, after all."
If Delirium is really this adorable, it's no wonder I spend so much time in her realm. No, seriously, that's where I meet most of my dates. Ask any of my friends.
Artists came out in droves for this session. Sure, there wasn't room for people to move, but there was art aplenty.
The one minute poses usually do not afford much time for detail, but asking our artists to draw three models in that time was downright cruel of us.
Apparently during this pose, both Death and Desire realized that they had something caught in their teeth. How embarassing.
The prize for the Best Left-Handed Drawing was stockings from What Katie Did. I'm not sure if there are any reprecussions to accepting gifts that had been touched by Death. I would have to ask Marlo Chandler.
The place was so packed that this gentleman actually had to draw on stage. Also note how, through efficient use of space, he was able to get full portraits of four of the Endless on a single page.
Wait a minute! Look at that button! Is Death secretly an agent of Boss Smiley? Are her breasts? How many comic book references that nobody will get am I going to cram into this blog? Will we ever know?
Desire is the cruelest of the Endless. Ze is also the best dressed.
When artists ran out of room on their pads for drawings, other artists' arms could also be used.
Our second contest was to depict our models in one of the Endless' realms. The prize was a gift certificate from Gowanus Print Lab.
In Delirium's realm, there are goldfish big enough for a woman to ride on.
There are also lots of pretty colours.
Desire's Realm, on the other hand, is loaded with suggestive imagery.
What is this? Two Deaths? Maybe one of them is the Little Death...
Here is an illustration based on the historical meeting of the Deaths.
These pictures are dedicated to Steve Prue and my unwillingness to let a running gag die.
My only note to this artist: More colours!
Our last contest was to incorporate one of the numerous gods that the Endless hold counsel with into your drawings.
Yes, Desire could talk even Odin out of his clothes.
Here we see Jesus hanging with his pals, because if there's anything we like more than mythology, it's puns.
But this was the clear winner. There is no Tess. There is only Zuul.
Those are all the photographs I have. Thank you to Melissa, Lauren, John, Foley, Yao, Dolcey, Justin, and Dennis.
Good night and sweet dreams.
- Syd Bernstein
RSS
NYC Events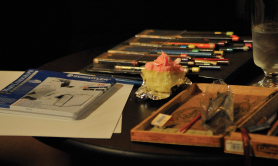 Art Tumblr
The results of tonight's Dr Sketchy's session :D
http://drsketchy.tumblr.com/post/69489605480