Branch Blog - New York, NY
Tue, December 12, 2006 • Event Alert!
The readings and book promo continue! This Friday, I'm doing a signing at famed comics shop Jim Hanley's Universe. But not only will I scribble funny things in your book. I'm also giving an illustration demo, to show you how I draw all that disturbing Victoriana. And who's my model? The gloriously beautiful Lady J, in the smallest amount of clothing legally allowed
Plus… free cupcakes!
So, this Friday…
December 15
6-8 pm
Jim Hanley's Universe
4. W 33rd St
That's close to the Empire State Building
Free! So buy books, you moochers
-----
RSS
NYC Events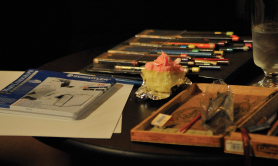 Art Tumblr
Dr Sketchy's LA 12/3/13 (pt. 1)
artofach.blogspot.com
http://drsketchy.tumblr.com/post/69132640329