Branch Blog - New York, NY
Thu, December 14, 2006 • Ex Libris
No one really enjoys book readings. The awkwardness. The forced japery. The odd way they always cut off early so the author can get as far away from the sweaty fans as possible..it's just a mess. Thankfully, we avoided all of that whitebread horror by bringing in costumes and doughnuts. Things sorely lacking at your average book event.
Amber Ray invades Bluestockings! The radical, volunteer bookstore on the Lower East Side. How radical is it? They have awesome coffee *and* Radical Spoken Word CDs. I didn't know such neat indie optimism was still allowed in Manhattan. I'm sure at any moment real estate agents and "Creative Workers" will blast through the doors and impose martial law: Anyone not making 100,000 a year kill be shot! Get on the ground and read The Believer! Now!
But I digress. Lets look at some pretty pictures from Gary Winter and Dr. Simon.
The aforementioned doughnuts. From the corner deli. We're all about Class at Dr. Sketchy.
Art Monkeys in a new and terrifying environment! I appear to dangerously straddling the Butch/Femme line here with the mime shirt and the dainty coffee cup.
We started off the evening with a reading from Our Most Holy Of Books, our book. Molly Crabapple reads from the introduction while Amber Ray lurks in the background like an evil advisor. "Yes! Dance my puppet! Tell them of being a broke art model! It's all going according to plan."
And of course, signing. For you. Molly's dress was mesmerizing. It looks like a housewifey 70s dress…expect it's made of SPANDEX. Like she was secretly a sexy housewife SUPERHERO. Weird. Erie. Werrie.
And then, we shamelessly held a Dr. Sketchy's! Right there in front of everyone!
Man you think you're in a room of adults until the crayons come out. We all have unresolved issues from Kindergarden. Deep, troubling issues.
The winner! Who got, what else, a free book.
"I'm a little teapot! Short and stout!" All I want for Christmas is a CHIN, apparently. I am just…amazed with this picture. I'm Prissy AND Sarcastic! In fact, I think this image needs to become an INTERNET SENSATION! I have prepared a version for you to scatter in forums and your social networking sites.
I look so much hotter in two colors. I'm not sure how to feel about that. Go, change the text! Spread it around! Make me a Meme!
And on that note on unmitigated ego, goodbye dear reader. Thanks to Bluestockings, Amber Ray, Gary Winter, Dr. Simon and everyone who braved the ragnarok cold to be there. Do you have to make me say it? I love you guys.
Be there this Friday at Jim Hanley's when Lady J will cause comic book geeks to explode on contact! Fun for the whole family!
-----
RSS
NYC Events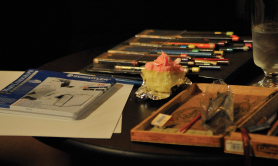 Art Tumblr
https://vimeo.com/81362468