Branch Blog - New York, NY
Tue, December 15, 2009 • Excuse me, Princess.
Hey!
Listen!
It's time for another edition of Dr. Sketchy's Anti-Art Blog.
As sophisticated, cultured individuals, we here at Dr. Sketchy's Anti-Art School have diverse interests and vivid, active imaginations. Among our interests are video games and naked women. John, for instance, has spent so much time playing The Legend of Zelda that he and Link are now considered married by common law. I, on the other hand, have a collection of over a half-dozen naked women that I keep in my closet for various occasions. Naturally, when we put our heads together, it occurred to us to try to combine our very different passions. If only Link were a beautiful woman who… took off her clothes! It was just crazy enough to work! And she would not just be any woman, but one of our favourites to see without clothes on, Justine Joli! Thus, a magical union was born between Nintendo and breasts. Join us, won't you, for an enchanted adventure into nudity.
Note the pointed ears. Whether they are into fantasy or science fiction, video games or comic books, there is a place in every nerd's heart for pointed ears. From Spock to Link to Nightcrawler, wherever there is geekery, you will find pointed ears. Pointed ears, I salute you!
Much like in the video games, the potions we drink at Dr. Sketchy's increase our vitality and magical power. They also make us wittier and more charming. More handsome, too.
Justine is a skilled hunter and a gifted marksman. Markswoman? Maryswoman.
In this economy, I think the rupee is actually worth more than the dollar.
Here we see the entries for the Left-Handed Drawing Contest.
The winner received So Good for Little Bunnies, a book from our friends at Baby Tattoo that is quite possibly too cute for its own damn good.
That sword she's holding is a real, working replica of the Master Sword. There's probably some penis/masturbation joke that could be made here, but I can't think of it. Also, I can't seem to remember my own name. Oh well, I'm sure it's nothing important.
This is that cheat code that IGN was always telling you about to get Link to take off her shirt.
And this is the audience - the best part of Dr. Sketchy's that has its nipples covered.
At one point, Justine lost her ears. Fortunately, her friend Riley was there to help.
For her heroism, she was rewarded with a kiss.
And now they're both my hero.
Our second contest was to incorporate one of the monsters from The Legend of Zelda
The prize was our own monster, a hedgehog from Squishable that we all immediately fell in love with.
This somewhat disturbing drawing transformed Justine into a pudgy moblin.
This much less disturbing drawing transformed her into a Gerudo.
Here Justine is fighting off two Floormasters - you know those hand things that drop from the ceiling and carry you back to the start of the dungeon so you have to go through it all over again. I hate those things!
Here Justine fights off some sort of bug thing. I tried to research all of these monsters to make sure I was calling them the right thing, but I couldn't tell what exactly this was supposed to be. A Tektite, maybe? Whatever. I'm sure at some point in some Legend of Zelda game there is some sort of bug thing.
And finally we see Justine about to be ambushed by… the hedgehog! No! Hedgehog, how could you?
John is a magical fairy who guides us through the often unpredictable world of Dr. Sketchy.
I'm like one of those background characters who always says the same thing every time you talk to him.
Here Justine hunts for gophers.
Even while relaxing, a true warrior always has her sword ready.
For the drinking contest, we had the artists draw a happy ending for our heroine. Evil is vanquished, the princess is saved, and peace is restored to Hyrule.
For those of you who aren't good at reading subtext, sex is about to ensue.
A happy ending can mean many things to many people. For some it's a blowjob.
For others, it's as simple as a quiet night alone getting completely plastered.
I wouldn't have thought that having something sharp inserted in one's nether regions would qualify as a happy ending, but, hey, I'm not here to judge. What this artist does in his spare time is his own business.
Finally, the heroine and the princess enjoy a moment of reflection as the blood dries on Link's sword.
The winners each got a potion of a different colour.
We had an extra bonus level contest that the model chose the winner for.
Finally, her battles done, our heroine sheathes her sword.
Here are some beautiful drawings done on White Lines Graph Paper. Be sure to check out their Dr. Sketchy Drawing Contest.
And for those of you who, for some unfathomable reason, are not yet in love with Justine Joli, here is what she looks like in her street clothes:
Swoon!
Special thanks to John, Justin, Melissa, Foley, Hilary, Beth, and Dolcy. I'll see you all this Saturday!
-----
RSS
NYC Events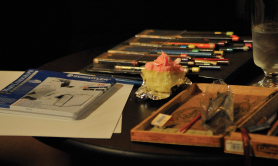 Art Tumblr
Dr Sketchy's LA 12/3/13 (pt. 1)
artofach.blogspot.com
http://drsketchy.tumblr.com/post/69132640329