Branch Blog - New York, NY
Sat, November 17, 2012 • Excuse Me, Princess
Hello, Sketchniks.
There is nothing cooler or edgier than modern reinterpretations of classic fairy tales. Everyone is doing it and we wanted in. Looking through an old book of Grimms' Fairy Tales, we found the classic story of Snow White was greatly in need of updating. Sure, it's been passed down for generations, but it's missing one very key component: breasts. There is no mention in the entire story of breasts or fancy underwear. I know, every girl dreams of growing up to meet a handsome prince and living happily ever after with him, and about 10% dream that prince has a vagina, but breasts are just about the best part of growing up. Who the hell dreams of growing up and not having breasts? It's stupid and I don't believe it for a moment. So, we got Miss Vivian to provide the breasts and fancy underwear for our modern retelling of Snow White that cuts out all of the unimportant parts about mining and housework. Lauren Goldberg took pictures.
For verisimilitude, we actually poisoned this apple. Forgetting about that, I accidentally ate the apple and had to be rushed to a hospital, where a team of surgeons who were able to revive me by kissing me with true love in their hearts.
Yao drew the most awesome poster for this event, that later had to be erased for a calculus lesson.
In addition to the traditional poisoned comb and talking mirror, our version of the story also included a time machine, which the 18th century Bavarian princess only used for buying shoes.
Our venue for this session included a number of ladders, which allowed us to capture aerial views of the audience, which are way more artistic than gound shots.
Our Blind Drawing Contest allowed our artists to explore modes of expression not often seen in traditional life drawing.
This session was sponsored by Dick Blick, who very generously gave out free art materials. They are amazing and you love them.
A small sampling of our audience's artwork.
Snow White's clothes came off for the traditional Bavarian striptease, which is integral to all of their most popular Fairy Tales as it keeps parents from falling asleep in the middle of the story.
Everyone remembers the original names for the dwarves - Flick, Glick, Snick, Dick Blick, Plick, Whick, and Quee. However, since that isn't true and people really only remember the Disney version, we asked our audience to suggest their own dwarves based on adjectives.
"Slutty"
"Jewy"
The contest winner received a stuffed animal from Squishable, named "Adorable."
This part of the story, where Snow White pierced herself with peacock feathers was a bit of a departure from the original story, but it symbolizes how fucking awesome Miss Vivian is.
Our audience was clearly inspired.
From left to right: The huntsman, the handsome prince, and the wicked stepmother.
In the end, Snow White stands alone, because she doesn't need a prince to validate her existence.
And in a stunning, unexpected twist, people drew her.
And they lived happily ever after.
Thank you to Melissa, Foley, Lauren, Yao, and Jawad.
- Syd Bernstein
RSS
NYC Events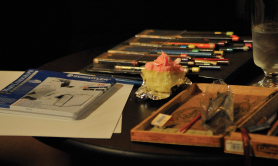 Art Tumblr
https://vimeo.com/81362468