Branch Blog - New York, NY
Sun, May 07, 2006 • Fantastic!
Hello Art Monkeys!
After a small hiatus, Dr. Sketchy's is back and badder than ever. The lovely Ms. Allison flipped and flapped her fans for us, for which we are eternally grateful.
Molly was out of town this week, so hosting duties fell on Co-Founder A.V Phibes and Yours Truly.
Ms. Allison her fans, and her bodacious back tattos.
Our first contest had Ms. Allison do a classic fan dance, challenging the Monkeys to capture her in motion. The prize? A card from Original Jewels.com; makers of fine, hand-made something or others.
Despite losing our couches, we gained more seats, and even little end tables. Swank-city.
We also had a contest to turn Ms. Allison's lovely fans into something other than fans. The winner received an authentic Dr. Sketchy's mouse pad.
For the random Noun contest, the word was "toilet". You people are sick.
The winner of the drinking contest, enjoying the cheapest whiskey money can buy.
Meet the winner Gina. Note to Gina: We Have Your Sketchbook! If you want to see it alive, please contact us.
Here, our photographer Dr. Simon takes a photo of a Time Out NY photographer taking a photograph, thus creating that giddy, post-modern hall of mirrors effect you people crave.
For our final contest, we humiliated our Helper-Monkey Syd Bernstien yet again.
And the results
Thus ends another amazing Dr. Sketchy's! Thanks to the Lucky Cat, Ms. Allison, All our sponsers and everyone who showed up. You are truly the Most Beautiful People In the World.
Turn in Next time when SuperStar Dirty Martini will thrust her amazing talents upon the Lucky Cat stage!
Until then Art Monkeys!
-J. Leavitt
RSS
NYC Events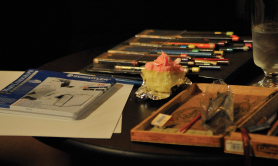 Art Tumblr
Dr Sketchy LA 12-3-13
http://drsketchy.tumblr.com/post/69027079376