Branch Blog - New York, NY
Fri, November 14, 2008 • Farewell Brooklyn
It's a revolutionary Dr. Sketchy's! Shien Lee of Dances of Vice graces our stage for a Glam Rock Rococo send off. It's our last session in Beautiful Brooklyn as we pull up stakes to Manhattan's venerable Slipper Room. So, we decided to blast The Lucky Cat into a smoking ruin of awesome! Words cannot express the amazement and wonder of Ms. Lee's outfit, so I'll shut up and show you the pretty pictures.
Take it away Ms. Lee!
In case you are wondering, she does all this and more at her Dances Of Vice parties. Get your Frill on today! Photos by Dr. Simon, the Comte' Du Papplionsueronmaic.
En Vouge! I'd affair her necklace. I'd let her eat cake. I'd ..cut her head off in front of a raving mob. Man, these things always end up in unexpected places.
The Esteemed Molly Crabapple, Ms. Lee, and the unblinking gaze of Marie Antoinette.
We even had live, horrifying entertainment courtesy of Syd Bernstein and John Leavitt.
The song was "Atomic". Our shame is eternal.
Me and Steve Walker. I'd like to think that my outfit is burned into his nightmares forever.
Oh yay, and some people drew or something. Whatever.
Plus! An extra-special All Monkey Pose! Just for you!
Lilah! The Owner and operator of the Lucky Cat, our home for over three years. She's put up with drunken monkeys, power-shorting lighting arrays, and glitter on every possible surface. To celebrate our Goodbye To Brooklyn, Lilah donated an entire bottle 2004 Organic Syrah!
It's both environmental AND intoxicating!
Shien Lee brought not one, not two, but THREE amazing outfits to shock and awe. I can barely get out of my robe most days. I am a disgrace, a thing of pity.
It being our Last Lucky Cat Session, we decided to bring back an old favorites from bygone years…
The Living Canvas! Oh how we missed your mix of art and objectification!
And That. Is. A. Wrap. Many many fluttery thanks to Shien Lee of Dances Of Vice! Thanks to Syd, Steve, Eve, Justin, Dr. Simon, And many many thanks to the Lucky Cat and Lilah and all our loyal fans. Follow us westward to Manhattan's Slipper Room on Nov. 22 for our glamorous re-opening with the glamorous latex-queen, MOSH!
The Slipper Room
167 Orchard St @ the corner of Stanton
F to Delancy
-JL
-----
RSS
NYC Events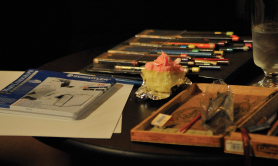 Art Tumblr
Dr Sketchy's LA 12/3/13 (pt. 1)
artofach.blogspot.com
http://drsketchy.tumblr.com/post/69132640329