Branch Blog - Minneapolis, MN
Sun, March 06, 2011 • February Session with Queenie Von Curves: F#$% You February!
Fun was had by all at the last session of Sketchy's Twin Cities when we said FUCK YOU to February! This winter has been brutal. So we used lots of color and focused our challenges on things related to spring in hopes that it will hurry up and arrive. Challenges were best of model: as a spring flower, either coming out of or laying an egg and tiptoeing through the tulips (in pointe shoes mind you) Special thanks to the amazing artist and our fabulous model Queenie Von Curves! Hope to see you next session on March 27th, which happens to be my birthday!
Cheers, Ophelia Flame
RSS
NYC Events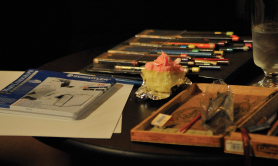 Art Tumblr
Dr Sketchy's LA 12/3/13 (pt. 1)
artofach.blogspot.com
http://drsketchy.tumblr.com/post/69132640329