Branch Blog - New York, NY
Sun, February 05, 2006 • Feburary Report!
Hello Art Monkeys!
We are enjoying an unnaturally warm winter here in NYC, so this Dr. Sketchy's was hot indeed. Our first male models, Ian and Gavin, did acrobatics on stage as Lion and Tamer, delighting and amazing the crowd with thier liberal interpretation of "Whip it".
But again, why say so much when we have so much to see? This month's (many) photos come from the talented camera of Dr. Simon, who braved the 1-9 train to be here.
Our Hosts,Ms. Molly Crabapple and Ms. A.V Phibes, explaining the rules of Dr. Sketchy's and what happens to the unfortunate souls who don't tip the models
Here they are again, in more "ready for press release" poses.
As before, we started off with fast 1 and 2 mintue poses.
Down Kitty!
Yikes! Circus music and whips, who says NYC has gotten tame?
During the show, Molly was interviewed for a Chinese-American newspaper. She's an international senstation!
We got new couches and seating this time, so no more sitting on the floor.

Once again the Art Monkeys competed for faboo prizes. Here, the models harshly judge the "Random Noun Inserted Into the Drawing" contest.
Sad you couldn't win a mousepad or mug? Don't worry! Non-Prize versions are for sale at the bar. If you wanted the shot of alcohol, you can get that at the bar too.
Here I am showing off the lovely things you can buy. Wait? What else am I holding? Why a DVD of Jen Dzuira's stand-up show! She was also there, but like any real star, declined photographs.
Another drunken bout of drawing, contests, and gawking!
Thanks to The Lucky Cat for hosting us again. Thanks to everyone who came to support our deranged endevour, and a huge thanks to Ian and Gavin, who brought thier own props and made the Dr. Sketchy experience even more perverse than before. We end with even more shots of them in action.
See you next time!
RSS
NYC Events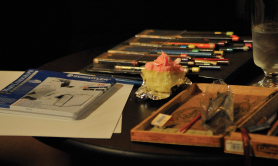 Art Tumblr
Dr Sketchy's LA 12/3/13 (pt. 1)
artofach.blogspot.com
http://drsketchy.tumblr.com/post/69132640329