Branch Blog - New York, NY
Thu, February 23, 2006 • Feburary x 2
Hello Art Monkeys!
We've increased the number of Dr. Sketchy's a month in order to contain the sheer number of howling, flying art monkeys screaming for more hot Dr. Sketchy action. And for the first time, we didn't have horrible weather!
This time, Glamazon Scarlett Sinclair strutted and posed around the stage to the strings of Dusty Springfield. We had more serious artists this time around. Are in danger of becomming respectable? Only time will tell.
Here co-host Molly Crabapple is seen drawing despite a fever and lurgy. Flu or not, the show must go on!
The drawing of co-host A.V Phibes of http://www.evilkid.com Submi.t your drawings to the Dr. Sketchy Sketchy Gallery at Drsketchy.com and become widly famous (or not).
The hosting of the Random Noun contest. Here I hold aloft a "Scarlett With Cod" before the judging eyes of the Art Monkeys. This week we had a bevy of new prizes. Passes for a "VIP" treatment at Starshine Burlesque cortesey of Little Brooklyn. And for the grand finale, 3 lucky winners had thier drawings scanned and turned into limited editions buttons by Badbuttons.com. Thanks to the amazing Kate of Bad Buttons who lugged a scanner and laptop to the Lucky Cat. Cross-promotion rules!
And so another boozy Dr. Sketchy comes to a close. Thanks again to the Lucky Cat and to everyone who came out to support hot, sweaty life drawings.
Vist us on March 4th, when illustrator Daye will amaze and confound us. Remember to show up early or reserve tables, unless you find standing improves your ability to render curves.
-JL
-----
RSS
NYC Events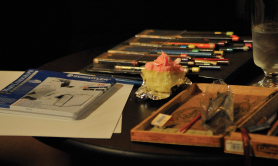 Art Tumblr