Branch Blog - South Florida
Mon, June 13, 2011 • First South Florida Session - South Florida!
On July 21st from 7pm to 9:45, Stage 84 Music Cafe will host the opening launch session of Dr. Sketchy's South Florida. It's been a long time since our area has had the pleasure of experiencing what is easily the most exciting and creative anti-art school alternative life drawing sessions. You will want to bring a drawing board, sketch pad or something sturdy to draw on....also, any dry materials - such as colored pencils, charcoal, pencil, etc. We will be doing a series of short poses (1, 2 and 5 minutes) and then work up to some longer 20 minute poses. Models will typically be costumed or wearing clothing to a point, as this is not a nude drawing session. Some models during our sessions will be theatre performers and burlesque dancers that will be scantily clad. We do have to adhere to a no photography rule, however, we will have an official photographer taking professional shots for reference material for you after the event. We hope to see you…please reserve a spot, as space is limited! Stage 84 Music Cafe is located at 9118 W. State Road 84 Davie, FL 33324 Directions: At Pine Ridge Plaza, the same shopping center as Round Up Entrance at I-595 & Pine Ridge Dr. Get to Interstate 595 in Broward. From the East, exit at Pine Island Road and turn left (south) at the light. Turn right into the Publix plaza, then drive through that plaza. Cross Pine Ridge Drive into the RoundUp plaza, and continue west until you see Dunkin' Donuts on your right and the lighted red sign MUSIC CAFÉ on your left. That's Stage 84! From the West, exit Interstate 595 at Nob Hill Road and continue straight on the service road. Turn right into the plaza when you see Dunkin' Donuts. You'll see the lighted red sign MUSIC CAFÉ in front of you. That's Stage 84!
RSS
NYC Events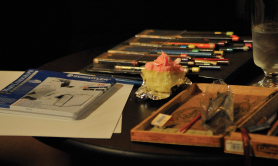 Art Tumblr
Dr Sketchy's LA 12/3/13 (pt. 1)
artofach.blogspot.com
http://drsketchy.tumblr.com/post/69132640329