Branch Blog - Baltimore, MD
Tue, June 04, 2013 • FIVE YEAR ANNIVERSARY with GiGi Holliday!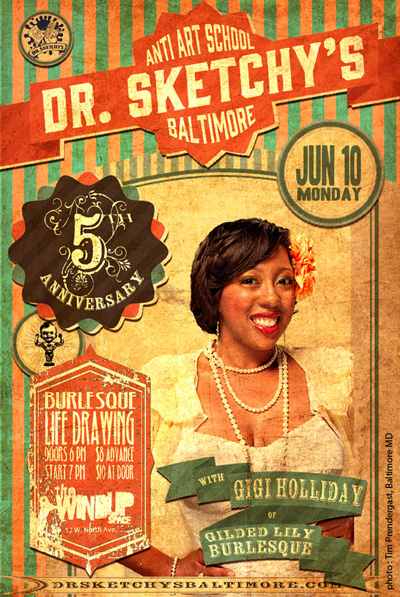 On Monday, June 10th, Dr. Sketchy's Baltimore will be 5 years old.

What started as a wobbly, awkward life drawing event run by two young, gorgeous, inexperienced artists with the assistance of four drinking buddies (one of whom showed up drunk) in the cramped, upstairs dining room of the now-defunct Dionysus Bar & Lounge, has ballooned into a life drawing extravaganza run by two young, strikingly gorgeous artists, routinely attended by 50 or more and which regularly threatens the Windup Space's good name, fire insurance, and proprietor's beard.

We've been on the nightly news and in the paper. There have been Australian fan dancers, a burlesque performer from Boardwalk Empire, about-to-be-famous musicians like Sabrina Chap and Lazer Libby, sideshow folk, contortionists, bulldogs, snakes, zombies, Mayan death goddesses, Laura Palmer, Barbarella, flying sharks, Team Atomic cyclists, Junkyard Doll ladies, Gilded Lily Burlesque folks, Sticky Buns Burlesque folks, Black Tassel Boolesque folks, Tony Fucking Apollo, cows, pastie malfunctions, banner malfunctions, emcee malfunctions, model malfunctions, Russell malfunctions, snow storms, lost friends like John Brewer, gained friends like Styger and Maeve and too many others to name, one threatened lawsuit, and so many goddamn hangovers that everyone involved now has the liver of a ninety-year-old merchant marine.

We've been overwhelmed by the generosity of dozens of photographers, without whom there would have been a lot of flyers drawn in crayon, and of our sponsors, past and present, who've helped this crazy engine of boozy art keep chugging.

On our Fourth Anniversary "The Fucking Man" towed our Zipcar with all our stage props two hours before our session. (I'm over it. No, it's fine. REALLY, I DON'T EVEN THINK ABOUT IT ANYMORE.)

What will our Fifth Anniversary bring? Flying wiener dogs? Russell's scary van driven up on to the stage in a misguided, horribly-thought-out attempt to do "something different" for the next pose? Will Aaron finally finish the second half of the mythical, long-discussed Dr. Sketchy's Baltimore stage? Will Aaron refer to himself in third person during the whole session the way he does sometimes in event descriptions and get slapped by Alexis?

WHO KNOWS.

Dr. Sketchy's is a box of chocolates, and sometimes some asshole put tacks in that shit.

I can tell you one thing, though.

GiGi Holliday.

Not familiar with GiGi Holliday of Gilded Lily Burlesque? Here, take a look at the last time she posed for us.
Did you watch it? Oh for Christ's sake, go watch it.

Here's some more info I stole from her website.

******
"The Chocolate that Melts Your Heart"
GiGi Holliday spends her days with nose and glasses in books and computers, providing customer service , but that's all a mask. It begins with a mild-mannered alter ego, but when she takes it all off GiGi Holliday bursts out. Armed with eyelashes and an arsenal of glitter, GiGi can school you in public speaking and show you her lines of communication with ravenous red lips. Trained to perform knock out dance moves from being a dancer for the Frostburg State University Kittenettes and FSU Modern Dance team she choreographs her way into your soul. GiGi studied the art of burlesque in Trixie Little's Boot camp graduating in May 2010 with a double major in Class and Sass and a minor in tit-allation. She has graced stages at The Red Palace, the Creative Alliance, The Talking Head, Illusions, Wind-Up Space and is often the featured star at La Boum's burlesque brunch in Washington DC. Performing the styles of Classic and Neo-Burlesque she enjoys the spot light heating her up and melting her milk chocolate beauty all over the audience. GiGi also produces and hosts the new popular revue GiGi's Ladies' Night Out.
******

GiGi is one of our favorite performers, though let me tell you a secret: personally, I'm not ever drinking with her again. That's a pretty hard category to get into, so take that warning for whatever you might think it's worth.

[Aaron, how long is this event description? Now you're just babbling. Jesus fucking Christ. —Alexis]

Fine.

Doors at 6, start at 7. 18+ to draw, 21+ to drink. Show up early to get a good seat—this is an anniversary, so you really might want to do that.

$10 at the door, $8 if you buy online more than 24 hours in advance. http://bit.ly/1b0FPoh

Prizes from Baby Tattoo Books!
No photography or messy paints, please (watercolors are fine).

Like our page for the latest updates: http://www.facebook.com/DrSketchysBaltimore

Photo of GiGi Holliday by Tim Prendergast of Baltimore, MD. http://timpphoto.zenfolio.com/


RSS
NYC Events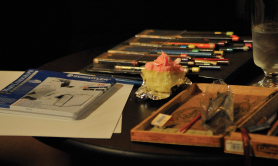 Art Tumblr
https://vimeo.com/81362468