Branch Blog - Dr. Sketchy's HQ
Thu, August 26, 2010 • Flashmob in Coney Island Saturday evening!
Dr. Sketchy's NYC is hosting a surprise flashmob session in Coney Island this Saturday, August 28th!
Featuring the gorgeous Kiki Valentine, host and producer of
the Sunday Show
, she'll appear as a mermaid princess, complete with bright pink mermaid tail. Come hang with us in Coney Island as we eat corndogs, draw Kiki and celebrate the end of the summer. The event starts at 6pm. The exact location will be announced via Molly Crabapple's Twitter account -
@mollycrabapple
Follow her to find out where to go!
RSS
NYC Events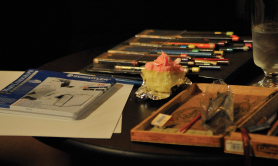 Art Tumblr
https://vimeo.com/81362468