Branch Blog - New York, NY
Tue, January 05, 2010 • Four More Years!
Welcome back, Art Monkeys! We had a very special session recently, celebrating our fourth year of Dr. Sketchy's. According to the first website I found, the traditional gift for a fourth anniversary is flowers. Here at Dr. Sketchy's, we decided fuck that. We're giving you breasts. So, to that end, we brought in the fantastically hot Rogizoid, who, while not technically a flower, does have breasts. Everyone was a lot happier that way.
Fun Science Fact: The purple hair gene is extremely recessive.
Look out behind you, Rogizoid!
This is what the stations of the cross would look like if Jesus were a hot woman in a bikini from space.
Our prize for the Left-Handed Drawing contest was a fabulous book from our friends at Baby Tattoo, still unaffiliated with Matsuo Tsurayaba, baby or otherwise.
This is a magical disappearing drawing, that can only be seen by the pure of heart.
This drawing was part of one of Picasso's periods, but I don't remember which one.
This person's schedule for the day: Rogizoid. He has a very strict itinerary.
Stranded on a hostile world with no source of food, Rogizoid is forced to eat her own glove.
For this session, Melissa made alcoholic cupcakes - combining two of our favourite things.
The aim of this contest was to transport Rogizoid to any locale the artists' fevered imaginations could conjure.
I don't remember where this is, but I'm sure it was impressive.
This drawing, instead of showing where Rogizoid was taken, showed what was left onstage when she was gone.
Here she is at the circus, being propositioned by an elephant.
And here she is at someone's grandmother's birthday party.
The prize was a cow from our friends at Squishable, makers of animals that won't attack when you hug them.
At half-time, we were entertained by the piano stylings of Sabrina Chap. Dr. Sketchy videographer Keith Jenson was there and recorded her singing Happy Birthday to Dr. Sketchy's Anti-Art School. Enjoy it, before the owners of the copyright to the song shut our website down:
Dr. Sketchy's Turns Four! from Spooky K on Vimeo.
At this point in the session, Rogizoid had been driven to the brink of suicide.
And then we had a freak-out.
While Rogizoid slept, she was assaulted by aliens, as drawn by our audience:
We gave two prizes for this contest.
I gave away a pink Etch-a-Sketch, which was coincidentally what I received for my fourth birthday.
John gave away a bottle of vodka, which was coincidentally what he received for his fourth birthday.
If I read this pose correctly, Rogizoid is about to eat some balls. I defy you to come up with a caption that does not involve oral sex in some way.
Apparently, during the last break, Rogizoid lost an eye. Fortunately, we could rebuild her. For our drinking contest, we had our artists turn her into a robot.
Our two roboticists were rewarded with alcohol.
Naturally, a birthday party just isn't a birthday party without cake.
The whole Sketchy crew was brought onstage to blow out the candles. Here they are, as John identified them, from left to right: Roger, Becky, Sam, Melinda, Dulce, Jen, Joe, Hilda, Tim, and Ellen.
And that's all the time we have for this blog. Special thanks to Ruth, Beth, Syd, Melissa, Dolcy, Molly, John, Hilary, Foley, and Casper, as well as Justin and Keith.
-----
RSS
NYC Events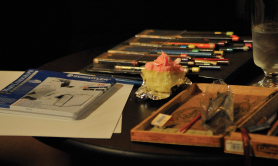 Art Tumblr
https://vimeo.com/81362468