Branch Blog - New York, NY
Wed, December 21, 2011 • Frankly Pierced
Hello, Art Monkeys!
I have a question for you - what is better than a sexy lady in her underwear? If you said, "A pierced sexy lady in her underwear," then have I got a treat for you! If you said, "A sexy lady in my underwear," then I won't disagree, but that's not what this post is about. If you said, "Time to buy a new fence," then I think you may have misread the question. So, getting back to the piercing, we recently had Miss Vivian pose for us adorned in various objects stuck into her body. Kate Black took photos.
Five poses in and she tears off her damn face. That is hardcore.
"Gather Ye Rosebuds While Ye May" - Robert Herrick (from the poem "To the Virgins," which doesn't really apply to any of us)
"When you gaze long into an abyss the abyss also gazes into you." - Friedrich Nietzche (who, by the way, was a complete tool)
Backstage pictures provide an uncomfortably close look at that mask. It knows my secrets. It must be stopped.
What? I was looking at the leaves!
Drawingception
I don't know if she's in pain or whistling. Either way - hot.
A flightless bird.
Yao brought her computer to this session, because if anyone under 25 is away from a computer for more than a few minutes, she begins to crumble to dust.
For Christmas, here are some drawings in red and green.
Most of our models put fancy costumes on for the sessions, but few models put them in or through. Miss Vivian is closing the preposition gap.
She is as pretty as a peacock. I say that mostly because it contains the word "cock."
Thomas Crapper was instrumental in developing the ballcock.
I think this artist got distracted halfway through.
Yes, if you win one of our contests, you too can own a Squishable cephalopod.
After the contest, we rushed backstage to prepare for the final pose.
While Miss Vivian prepares, enjoy these photographs.
And she's back! With six candles in her arms, almost as if she knows that Dr. Sketchy's Anti-Art School just celebrated its sixth anniversary.
Happy Birthday!
Thank you Melissa, Kate, Foley, Yao, Keith, and Jawad.
- Syd Bernstein
RSS
NYC Events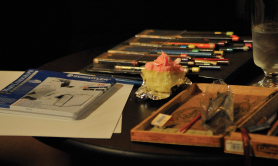 Art Tumblr
Dr Sketchy's LA 12/3/13 (pt. 1)
artofach.blogspot.com
http://drsketchy.tumblr.com/post/69132640329