Branch Blog - New York, NY
Fri, May 03, 2013 • Frazetta Frenzy
High Five Fine Artists!
Today is brought to you by the letter "F" and we'll be finessing a façade with the fabulous faces and fine fannies of our Frank Frazetta figurines, while finagling fiery fantasy into your freaky Friday! Now say that four times fast! I think I used up all my "F" words...oh wait...no I didn't. This Session features the cutie with the booty, Miss Kita St Cyr and the feirce and fearless Tony Apollo posing in effigy to the Frazetta Phenomenon.
More "F" words to follow...this message is made possible by your friendly feline freelancer, Kat Mon Dieu with photos by the cabable Kate Black (From the February 10th, 2013 session at the Slipper Room NYC).
Our Hero's meet in drag for the first time since the dressing room. It is a moment frought with possibilities...as you will see.
Fie Foe Fum FEE...I smell the blood of a gold encrusted female trying to seduce me!
She tricked me! You can never trust these scantily clad dames. They will pull a sword on you every frickin' time!
But life has taught him to come prepared! This is what is known as a Frazetta pickle...so they do not move. The air is thick with anticip...
...PATION!
Feigned submission...he still clutches his daggar where she cannot see it. Beware Amazon Princess...he's fronting.
I warned you but did you listen to me? Noooooooooooooooo.
The plot thickens...
Which weapon to use? I must consult the Oracle du Neandertal for this important decision.
Frazetta was a fundamental butt man. He like-a da ASS. She's trying to distract you fool...focus!
It's all over for you buddy...this chick knows what she wants and she's already got her mittens on your sword.
Surrender to her questionable intentions...it is fate.
Go forth and conquer your destiny and her...or this will not end well. The Oracle du Neandertal has spoken!
Every baby needs a He-He-He MAN! (Unless she's into metrosexuals, or geeks, or nerds or ART MONKEYS!) There's always the prospect of cross pollination and blurred definitions. The fiery sky's the limit for creatives.
The Middle World Amazonian Princess Wench slumbers...exhaused by her Warrior King's ferocious passions.
Quel tableau! I think she is in trouble...forget metrosexual! I think he may be a cannibal! That's what happens when you burn the pterodactyl and forget to pick up his loincloth from the dry bushes. Judith is to be slain by Holopherenes in this story!
"FUCK!" (you knew I had to drop the "F" bomb in here somewhere, didn't you?)
The drama of a 15 minute pose...I know his arms are killing him right about now. (I want those eyebrows!)
But it is all worth it when we models see your beautiful tributes to our glorious cramped muscles! Vis...
Presenting the worthy winner of the Fluffy Squishable Figure! Go forth to claim the spoils of a battle well fought!
In HINDSIGHT this session was one of the best I've ever seen!
Look who's got the Oracle on speed dial NOW!
Our Warrior looks rather pussy whipped here...but as we know, they take turns wearing the bossypants.
And as we know, the cool kids sit in the back. (smiley face...winkey face)
it is time, dear art slaves for the next ruthless competition (sponsored by Baby Tattoo)...let the drinking games BEGIN!
Our Fantasy is fulfilled...
Equality of the sexes has been attained...fairly balanced in beauty, disrobement and finally, not waving their arsenals about! This has been a fascinating forray into the feindish faculties of Frank Frazetta, who dreamed up worlds upon worlds from his gift with paint. We are all the better for it. Much appreciation and kudos to Melissa, Syd, Yao, Kate, Kita and Tony; and all who made this "F-ing" amazing Dr Sketchy's come to life!
For now farewell...and dare I leave you to ponder the quintessential question? Well...perhaps it would be wise to keep silent on this one. Alas, I am an irreverent Kat and since I know you can always blame it on the dog, I will ask:
"Who farted?"
RSS
NYC Events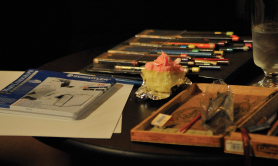 Art Tumblr
https://vimeo.com/81362468