Branch Blog - Gettysburg, PA
Wed, August 22, 2012 • Fri, November 16, 2012 • 6:00pm - GRAND OPENING - Dr. Sketchy's Gettysburg
Dr. Sketchy's Gettysburg, PA - GRAND OPENING to be held on November 16th.

We are excited to begin planning our events. The details are in the works, the venue is being organized, and model interviews are underway.


Help Us... S P R E A D the word....

Life drawing meets cabaret!

3 hours of life sketching featuring 2, 5, 10, and 20 minute poses, contests, and prizes.

Perfect models for our smaller community wants. Models will be beautifully dressed not scantly clad
Enjoy a fun and relaxing evening with like-minded artists of all skill levels.
RSS
NYC Events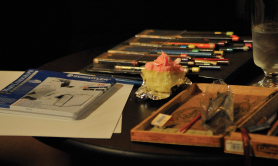 Art Tumblr
Dr Sketchy's LA 12/3/13 (pt. 1)
artofach.blogspot.com
http://drsketchy.tumblr.com/post/69132640329