Branch Blog - New York, NY
Fri, May 18, 2007 • Friday I'm In Love!
Like, oh my god, it's time for Dr. Sketchy's Recap! This week, Dr. Sketchy's did the time-warp again for a look at the New Wave 1980s! C'mon everyone, lets go listen to the Cure and wear skinny ties! Lapel buttons for all!
Me, your loyal host, handed out of the fabulous prizes: a New Order Bootleg tape! We take themes *very* seriously here at Dr. Sketchy's….Look at our other prizes
Actual Viynl bought at an Actual Goodwill! I enjoy his expression reading the back .."Yes! China Girl! DELICIOUS, Buwahahahaha!"
I even did a load of blow and ruined the Securities Exchange Commission just to be thematic, but Of course, no totally 80s session would be complete without a spunky, early-Madonna ragamuffin model. I humbly present, Giselle.
She looks like a Go-Go or a Banshee or a Bangle. Giselle was approached by Molly to model because Giselle works at Verb Cafe and because Giselle can do this…
Oddly, she agreed to pose for us after being asked. Which just goes to show that you can get away with anything if you're a pretty young girl. ANYTHING.
Now, c'mon grab the keys to my Ferrari and put on your red shoes to dance the blues!
Desperately Seeking Sketchy.
The Mirror has Two Awesomes!
The back of Dr. Simon and our Impressive Lighting Setup. Every one of those lights had to be carried in and installed, by me. Every session. Now does everyone realize why I don't wanna go bar hopping after?
They all look so…serious! and in rank order and file! You'd never guess that they where listening to Super Mario music and drawing "Best Incorporation of Yo Momma." But wait, who is that in the crowd?
Why it's Molly Crabapple and Steve Walker! Diligently sketching! Happy are the Monkeys Who Toil For Glory of Fatherland!
What Molly was drawing. Thats right, actual never-before-seen Molly Crabapple illustrations! Get them while their valuable!
During the break, I got away from the theme and decided to celebrate the REAL 80s, the actual Top 40s 80s that will be repackaged as "classic rock" in about 5 years. And I made all of you sing along.
Just bethankful I didn't do an encore with "Oh Sherry".
We had a metric tonne of amazing artists show up this session. Like this guy!
He's like, an Art Director! With like, a real job! Have we sold out all ready?
From our "Best transformation into a Glam Icon." Don't ask me about the warhead, I don't understand it either.
We also had a "Best Incorporation of Yourself in Middle School.."
So, in Middle School, alot of you where disproportionaly sized, apparently. The winner received a Miami Vice shot and our undying love.
THis is Heather. she won and now her it's her turn. No wait, it's Heather's turn, Heather? Doesn;t matter, for another prize, Amanda got to kick Syd.
It was funnier in person.
And thats it my little monsters! Thanks to Ryan Roman and Dr. Simon for the photos and thanks to everyone who showed up to our totally righteous shindig. Come back next time with Ruby Valentine will be Marilyn Monroe in "Hollywood Babylon!"
Best,
-JL
RSS
NYC Events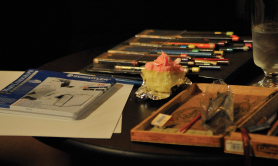 Art Tumblr
Dr Sketchy's LA 12/3/13 (pt. 1)
artofach.blogspot.com
http://drsketchy.tumblr.com/post/69132640329