Branch Blog - New York, NY
Wed, February 25, 2009 • Furst Furson Furspective
Welcome back, art monkeys! This is Everybody's Best Friend Syd Bernstein with another installment of the incomparable Dr. Sketchy's anti-art blog! We had a very special session on February 14th. It was the first in our Art Star series, a synergistic meeting of minds to honour one of Molly Crabapple's hoity-toity big-shot artist friends. Our first special guest was none other than the head coach of the Eastern Michigan Eagles himself, Ron English!
Meeting Mr. English was a huge thrill for me personally, as I have been using his eponymous language for almost my whole life. For those squares in the audience who are unhip to the pop art scene, Ron English is a brilliant street artist who created the character Cathy Cowgirl,
which was the inspiration for our lovely model Amber Ray's costume:
It's no secret that Amber Ray is one of my favourite Dr. Sketchy's models, and in her portrayal of a sexy cow, she has fulfilled fantasies of mine that I have tried to avoid for years. For more, click the little link below.
This was our first contest, which, as always, was best left-handed drawing. Of course, people who are naturally left-handed had to draw with their right hands, but curiously no contingency allowed for the use of hooves for the bovine artists.
John quipped that the presence of both horns and udders may indicate that Cathy is a transexual. It should be noted that John is a city boy who wouldn't know a Holstein from a hole in the ground. Actually, although horns are usually more pronounced in bulls than cows, both sexes have horns unless their breed is "polled," meaning that neither sex would have them. Among dairy cows, the horns are usually removed at a young age to prevent damage to each other and to farm equipment, but a Holstein like Cathy could very well have horns without any cosmetic surgery. Dr. Sketchy's Anti-Art School: Who says we're not an educational institution?
And here is our lucky and talented winner of the slightly extremely disturbing contest of incorporating a blue-balled bull into a drawing.
When scientists first proposed breeding cowgirl cows who could herd themselves, oh, how the people scoffed. Then, when the stunned public bore witness to what science had wrought, they raised their hands to the heavens and asked, "Has science gone too far?" Upon seeing these pictures, I can confidently say that science has not gone far enough!
These are the winners of our legendary Dr. Sketchy's Drinking Contest. I don't think any explanation would be truly sufficient.
Amber Ray's breathtaking session was also notable in that it was the first time I have been able to refer to a beautiful woman as a cow and not get slapped.
Here are some samplings of drawings inspired by modeling based on art. But is it in itself art? It's better than art! It's double-baked-in-meta-art!
Here, caught on film, is John Leavitt's tragic wardrobe malfunction. As of the writing of this blog, he has yet to be recovered.
Finally, we leave you with Ron English's drawing of a model posing as one of Ron English's own drawings, making the drawing so meta it has broken my brain.
Specially thanks to Dr. Simon for the pictures, to Amber Ray, to Dani of theBodyofArt.com, and to the ever-gracious Ron English. We'll see you all next time!
-----
RSS
NYC Events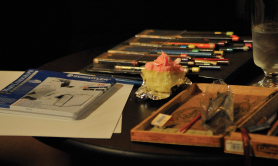 Art Tumblr