Branch Blog - New York, NY
Sat, September 24, 2011 • Getting Leia'd
Hey, Art Wookies!
Do you remember that scene in Star Wars Episode VI: Return of the Jedi where Leia is captured by Jabba the Hutt and he keeps her on a chain in a metal bikini? Yes you do! Don't even try to lie to me! It's a perfectly normal and natural part of every nerd's sexual development and is nothing to be ashamed of. Anyway, to make a long story short, Leia strangles Jabba to death with the chain so instead of being chained to a bloated slug monster, she's chained to the corpse of a bloated slug monster until R2D2 cuts her free and she makes her escape. But then what happened? The next time we see her, she's aboard the Millenium Falcon. So what happened on the way from Jabba's lair to the Millenium Falcon? I bet you never even asked that question! Well, luckily for you, we did and as it turns out, before she made it into space and changed out of her slave outfit, she posed for a life drawing class. Now you can see this lost chapter from the Original Trilogy, with the incomparable Justine Joli as Leia Organa. Justin Lussier took the pictures.
As I am told, Leia has some pretty severe Daddy Issues.
This is what I figure a typical day in Melissa's life is like.
Justine demonstrates a fundamental physical concept: There are no bras in space!
These were the entries for our 1-Line Drawing Contest and you know what? I love our audience.
Oh, yeah. I would work for seven years for her. You know... like Leia... in Genesis? No, that isn't part of the Expanded Universe!
Even after breaking free from Jabba, Leia had the misfortune of being chained to several other things...
...like George Lucas...
...and one of those pig thingies from Angry Birds.
I bet this would be hilarious if I had any idea what it was in reference to.
We took a brief excursion to an alternate reality wherein Leia was a dog waiting for her owner outside a bodega (which is SO DAMN CLOSE to an anagram for Dagobah) and Darth Vader was a ninja turtle.
She was chained to Yao, which doesn't seem that bad. But I should point out that drawing is to scale. We often use trick angles in our photographs to disguise the fact that Yao is HUGE.
And finally, Yoda, because it's adorable.
We are told that Star Wars happened a long time ago, which is exceedingly vague, so we challenged the artists to put Leia in the proper historical context. Join us on Leia's voyage through time:
Our first stop is the time of the dinosaurs or possibly during the shooting of Jurassic Park.
Skipping forward a few million years came the Roman Empire, where Justine Joli was worshipped as a goddess, kind of like she is now.
After that were the Middle Ages, when Europe got a convertible and started dating a woman half its age.
This artist chose a few minutes before the cotnest ended, which wasn't that long ago when this was drawn and REALLY wasn't long ago when the movie was released.
And then we caught up with the present and had a nice drink.
Thank you to Melissa, Foley, Justin, Keith, Dolcy, and Yao.
- Syd Bernstein
RSS
NYC Events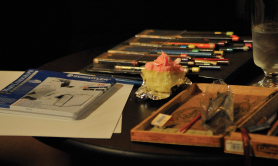 Art Tumblr