Branch Blog - New York, NY
Sat, February 11, 2012 • Ghost Riders on the Stormy
Yippee-ki-yay, Art Monkeys.
Not too long ago, a certain rip-snorting, two-fisted cuss by the name of Stormy Leather rolled into town, which is good, because if she had more than two fists, that might have been cause for concern. I don't know where she came from and she wouldn't give me her home phone number but dang it if she didn't shake things up a might and do a bit of heart-rustling. Kate Black took photographs.
I love cowgirls - forward and reverse.
Stormy is hotter than the surface of the sun around springtime. She got me hornier than a polecat in a saloon at closing time, and our saloons close mighty late in these parts.
Stormy arrived wearing very little and she returned to that condition right quickly.
Hey! Look! Melissa's got a squid!
Holy crap! She changed into her costume while we were distracted by Melissa's squid! That sneaky devil!
For the one-minute poses, our audience had to be quick on the draw.
Every cowboy sings a sad, sad song, but so does Morrissey, and he doesn't even have to transport cows. He also gets paid much better. Something to consider when making your career choices.
I like a girl who can hold her liquor. Moreover, I like to have a girl so I can hold her and liquor. The point is, liquor is integral to the process.
For the best one-line drawing, one of our audience members won two free sessions. This is the highest non-alcohol-related honour we can bestow upon a patron.
The session was hosted by myself - Sheriff Syd - and my partner, Deputy Foley. I'm a wordy one, but Foley just lets his Nerf and Wesson do the talking for him.
Stormy is quite adept at roping, which is an essential skill both on the range and in the bedroom.
Foley passed around the collection basket, because he is the most Catholic of all of us.
Those boots are made for walking, so they're much sturdier than her train-riding boots.
Cowboys rode on headless pigs, right?
In loving memory of Steve Jobs. R.I.P.
Look, corsets are rough on a person's midsection. That's why so few cowboys wore them in the first place.
The winner of our ten-minute contest was shocked and delighted by his Squishable narwhal.
Well, I'll be hogtied! She's been hogtied!
In this clearly symbolic scene, Stormy's crotch contemplates Aradia Ardor's horse's mortality.
Stormy inspired some nice-looking artwork from our audience.
This is the sort of pose I find difficult to comment on without being labialed sexist.
And then Stormy got a little bit confused as to where a hat is worn.
The drinking contest winners enjoying their prize is where I usually end these entries, but this time...
we have a couple more backstage shots of Stormy, because I still haven't had enough of her.
Special thanks to Melissa, Foley, Jawad, Kate, Keith, and Yao.
- Syd Bernstein
RSS
NYC Events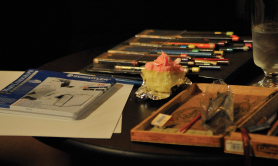 Art Tumblr
https://vimeo.com/81362468