Branch Blog - New York, NY
Thu, April 09, 2009 • Glitter And Doom
Great Glitter Gazonngas! It's Raquel Reed ( Ihateraquelreed.com ) The Manic Panic Pixie Girl taking the internet by storm! Our big bad colorful session was sponsored by Glittl cupcakes and Cupcakes Take The Cake! Much candy-colored pastel treats were consumed. For Art. Also Liberty. More photos by Dr. Simon follow
Cupcakes! We well devour them in our horrible maw!
And that's it! I'm off to Beantown next week, but come on Saturday anyway for The Bambie Killers' tribute to Grindhouse! Be there or not!
Thanks to Syd, Steve, Justin, Raquel Reed, Dr. Simon, The Slipper Room and everyone else who makes this madness possible.
-JL
-----
RSS
NYC Events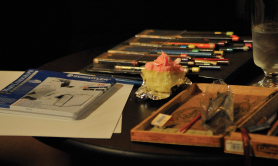 Art Tumblr
Dr Sketchy's LA 12/3/13 (pt. 1)
artofach.blogspot.com
http://drsketchy.tumblr.com/post/69132640329