Branch Blog - New York, NY
Tue, April 24, 2012 • Go-Go Gadget Amy!
Greetings, Art Monkeys!
We all know that when the traffic light is green you go. Customarily, it will then turn yellow, prompting you to slam on the accelerator, and if you don't make it in time, it will then turn red, signaling you to stop. What do you do, though, if the light turns green twice? Why, you Go-Go, of course! And all of you who are tired of the stop-stopping in your life are in luck, because at Dr. Sketchy's Anti-Art School, we have Go-Go Amy posing! Kate Black photographed.
Few people know this, but Go-Go Amy earned her name by consistently beating her French friends at Chinese board games.
She may look a bit wacky, but let me assure you, Go-Go is no dodo.
When she first arrived backstage, Amy was kind enough to immediately strip down to her underwear.
Naturally, we insisted that she put on much less clothing before we let her onstage.
HOLY FLAMING NIPPLES! She lit her damn breasts on fire!
How the hell am I supposed to write captions when someone sets her fucking tits on fire?!
In Japanese, her name translates to Five-Five Amy. She is actually 5'-7", but were she two inches shorter, the joke still wouldn't work, because the Japanese use the metric system. Damn you, Japan.
I think this was an entry in the One-Line Drawing Contest, but unless he had a magical colour-changing marker, I think he cheated.
This outfit does not actually grant her the power of flight, but it does set my heart flying.
The unicorn and rocket tattooed on her right arm symbolize how her right arm is fucking awesome.
Sometimes, winning a Squishable is as simple as burning the skin off the model's face.
Removing one's bra seems to bring out the best in our artists.
Amy is very conscientious about her go-going responsibilities, and always makes sure that both George Michael and Andrew Ridgeley are awake before she does so.
Our disaster contest included a tentacle dragon and a heart attack. I don't believe I have ever used the phrase "tentacle dragon," but I intend to from now on.
Cheers. Also, tentacle dragon.
Thank you to Melissa, Foley, Kate, Jawad, and the new Dr. Sketchy's Pit Crew.
- Syd Bernstein
RSS
NYC Events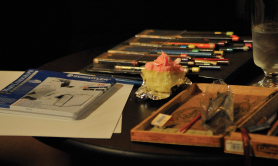 Art Tumblr
Sister Mary Willow
Dr Sketchy's Auckland 03/12/13
http://nomadshotline.tumblr.com/
http://drsketchy.tumblr.com/post/68974877262