Branch Blog - New York, NY
Thu, March 29, 2007 • God Save The Queens!
Hail! Are yee friend or foe? The Lucky Cat's Time-Salon did boogie-woogie off into the 1500s this week, for the celebration of Everything English at Dr. Sketchy's! Queens! Ruffs! Spotted Dick! It's a Jolly good olde time. Yes. We thought we had pulled out all the stops before, but no! We found NEW stops, and they were ripped out by the firm, confidant hands of Gal Friday and Ian Christiansen!
That's right, full Elizabethian court dress. With wig. For us. The Fairy QUeen Bess and Saucy Shakespeare! My heart is filled with joy.
Gal Friday
Ian Christansen!
They're both super-cool and should be given oral sex by attractive strangers at random intervals.
And your hosts! Try to guess who is in period-specific clothing? That ruff look a week and 8 gigantic paper doilies to make. I apparently have a very supportive boyfriend.I wanted to look like John Dee, but I think I'm coming off more Vasco De Gama. I'm forging new paths and trade routes ..toward AWESOME!
And now, her Majesty.
Photos by Lord Roman Of Jersey and Simon, Earl of Manhattoe.
"Ennie-meanie miny moe, which of my relatives has to go?"
Agrressive Queen is Agrressive! Submissive Shakespeare is Submissive!
Back! Front! and now…
the Side! We spare you no possible angles here at Dr. Sketchy's!
And art! Our flimsy pretense for this whole she-bang!
The level of detail on Gal's outfit cannot be overstated. Just look at the ruffles! The RUFFLES!
Shaved head! Period Make-up! A Chastity Belt! An expression like she's contemplating
conquering Scotland for kicks!
The pasties are the British Royal Seal. Just thought you should know.
Long after the trial and the break-up, Dick Grayson still insisted on wearing the mask and being called "The Boy Wonder."
Dr. Sketchy's Anti-Art School is an equal opportunity objectifier.
And yet More Art!
And Prizes!
Some people won important books from Soft Skull Press!
Other people, not so much.
This spunky artist won a shot of Bombay Gin! Cause nothing says "English" more than a shot of gin in the afternoon.
Amanda won a can of Heinz Baked Beans with an image so ..distressing, that I feel the need to put it behind a link. I give you Amanda's (best incorperation of sad ducks.)
http://www.drsketchy.com/test/bessy/queenartnsfw.jpg
*shudder* Lets just shake that off, shall we?
"Do you find England…appealing Lord Rochester?"
I even got to Knight someone! So now James here is of equal status to both Sir Galahad and Sir Elton John!
Arise! Sir James Of Jersey City!
And now, the Time-Salon is starting up. We're kicking in the Electric Slide and calibrating the Shake Rattle and Pitch And Roll! Join us on Saturday when Glam Burlesque Queen, Dirty Martini will rose-tint your world and keep you safe from trouble and pain.
Best,
-JL
RSS
NYC Events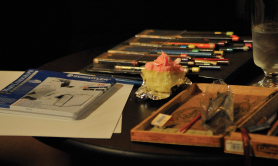 Art Tumblr
https://vimeo.com/81362468