Branch Blog - New York, NY
Fri, September 25, 2009 • Gone Fishing
So, I have received the photographs from last weeks session, and there were literally hundreds of them. This is fucking insane. While I figure out how I'm going to handle this, I thought I'd show you a little taste of what's to come.
I know those of you who were at last week's session were probably wondering, "What would this session look like if I were a fish who was looking around the room very quickly?" Well, thanks to photographer Andras Frenyo and his panorama and fisheye lens, now you can know!
Some of you may be saying to yourself, "That's nice and all, but what if I were two fish, one of whom was rotated 180 degrees?" Well, Andras Frenyo can help you with that, too!
More soon.
-----
RSS
NYC Events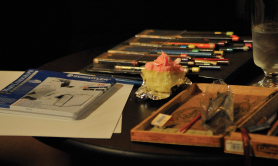 Art Tumblr
Dr Sketchy's LA 12/3/13 (pt. 1)
artofach.blogspot.com
http://drsketchy.tumblr.com/post/69132640329