Branch Blog - New York, NY
Wed, May 09, 2007 • Good Golly!
Hey! Ho! lets go my little darlings, and welcome to Dr. Sketchy's Rockin' Recap!
We had a hard-rocking good time theme this week, and who better to shake up all us than our resident rockette and the girl who has got the most, Lady J!
…that IS a whole lot of shakin' goin on, if I may say so myself.
We did do the Da do Run Rum and Dum Dum Dit ty, giving out rockabilly
freakshow prizes and putting a guy's hand in an animal trap.
More on that later, now, Lady J!
Side by side comparisons make me go all weak in the knees.
I wasn't kidding when I said Lady J can and will rock out at any moment.
She's an actual singer and music-making person in real life! Right now she
seems to be asking the audience for their input on the song. I do enjoy
democracy in action.
There is an explaination for this photo, but I feel it's better to leave the
mystery intact in all it's distressing glory. And in *that* vein….
I dare you to figure out what happened to lead up to this point! Ha ha!
Mysterious! alluring! What could it be? It's Lady J's new tattoo. In fact,
tattoos where a bit of a theme this week. how so you ask? Well, like this….
Announcing the contest….
and preparing the "canvas." The contest, best tattoo of the model done on Steve Walker! The result was this..
There are not enough words in the English language to contain and describe this amount of AWESOME. Look at the detail work!
The winner got a book on the new underground circus movement and Steve got blocked pores and ink posioning. Success!
Molly Crabapple, who still can't look menacing despite the Rockabilly patina.
Steve Walker, a rebel who will never ever be any good.
Myself! Showing off one of our prizes, a portable AM/FM radio! Also, I appear
to have turned into a husky version of my dad. I'm not sure how I feel about
that.
There is no pretext for this picture, i just think we all look like perverse imps. And this comforts me.
The winner of some real fuzzy dice to put on your imaginary 57′ Chevy.
We had Jared The Magician do some magic and escape from a few fiendish traps during the break! here, he implores Fred harper to pick a card.
Jared being tied into a straight-jacket by visting model, The White Boom Boom . I think I'll keep this photo in a real..special place. For insurance purposes, you dig?
And thus ends our teenage hop! It was the most! Come back when we'll electric slide into the 80s! C'mon, lets do a lot of coke and vote Republicans! Woooo!
-JL
Photos by Ryan Roman and Dr. Simon.
-----
RSS
NYC Events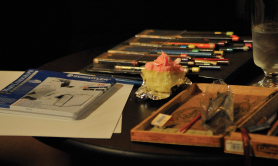 Art Tumblr
https://vimeo.com/81362468