Branch Blog - Brighton, UK
Sat, September 04, 2010 • GRAND PRIZE for our first event tomorrow!
He's one-of-a-kind, handsome, debonaire, oh-so-Brighton . . . and could be all YOURS! Come to our inaugural Back to Skool show tomorrow and win this handmade art doll -- or several other "art4art" prizes!
cookiechang blog
Last chance to get your advance tickets!
BUY TODAY!
RSS
NYC Events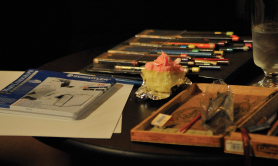 Art Tumblr
Dr Sketchy's LA 12/3/13 (pt. 1)
artofach.blogspot.com
http://drsketchy.tumblr.com/post/69132640329