Branch Blog - New York, NY
Sat, July 31, 2010 • Hair
Why, hello, Art Monkeys!
Our last session was somewhat bittersweet as our home and venue for the past year and a half, The Slipper Room, closed for renovations, leaving us temporarily homeless, wandering the streets, drawing things for nickels on street corners. However, before that happened, we had one last session in us. What a session it was! We had the fabulous Dante Posh posing in a tribute to the beauty parlors of the 1960's, the glory days when they didn't fuck around with hair.
Don't make a move or she'll blow dry the shit out of you!
Holy shit! That poor dummy head! I think she killed it!
Proper hair care is important, no matter where the hair in question is.
Our Left-Handed Drawings were all in colour! Perhaps the artists all caught on that the simple-minded and easily distracted audience is naturally drawn to pretty colours.
Like my mother always said, if it doesn't hurt, you won't be beautiful enough and I will never love you.
Nobody should look this good with her hair in rollers.
Our second contest was to give our model a completely new hairstyle.
This one combines the tasteful style of the mohawk with the timeless beauty of the rainbow fright wig.
This is part of the new counterculture "ice cream chic."
Hey, remember Rugrats? And Angelica's doll, Cynthia? Oh, no reason.
Hey, also, did you ever see Donnie Darko?
This isn't so much a new hairstyle as putting meat on her head, which is pretty cool regardless.
And this is pretty much how I look first thing in the morning.
The prize for this contest was a bottle of vodka from our beloved sponsor, Boyd and Blair.
Check out our clever and eye-catching advertisements. The tabs have our website's URL on them, but if you're reading this right now, this is probably information you already had.
Dante reveals her horrifying secret - her nipples are sentient beings with unimaginable powers.
Lady Godiva has nothing on Dante.
And who is this gorgeous, enchanting young lady? It's none other than Beth, one of our revered helper monkeys. She has been with us for the better part of a year, but it recently came to our attention that she had never been hazed. So it was that the time-honoured tradition of the Living Canvas contest was brought back. Her friend Hilary (the brunette who was also used as a canvas) kept her company. Wasn't that nice of her? Dr. Sketchy's really is a caring community. We're like a family - except that some of us are hot women who take off their clothes. So we're way better than a family.
I'm not entirely sure what this is about, but my best guess is that Molly is now making comcis to market in Japan.
Our last contest was to incorporate the 60's. The Beatles! Twiggy! Richard Nixon! It's all so gear!
Our first entry was a little nod to psychedelia and the drugs that made it possible. Or maybe this was by Lisa Frank.
You know, things like roller skates and drive-ins still exist. I know I had both of those things in my childhood, and they both resulted in childhood injuries. But I concede that they were around in the 60's, too.
I love this one, so much. Truly, the 60's were a golden age for cinema.
This was the most cynical entry we got. I sort of resent the term "nostalgia" being used, since I figure there had to be no more than one person in the room who was even alive for the 60's. I guess we're all nostalgic for past lives.
And with the traditional shots, we closed our last session at The Slipper Room. Thank you to Molly, John, Justin, Melissa, Dolcy, Foley, Matt, Martin, Beth, Hilary, and The Slipper Room for putting up with us for so long. Join us on July 10 at our new venue, The Parkside Lounge! See you there!
RSS
NYC Events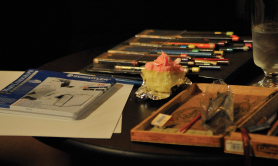 Art Tumblr
Dr Sketchy's LA 12/3/13 (pt. 1)
artofach.blogspot.com
http://drsketchy.tumblr.com/post/69132640329