Branch Blog - New York, NY
Tue, October 24, 2006 • Halloween Hootenanny
Welcome to Dr. Sketchy's Anti-Art GHOUL. In honor of this, our most scared of holidays, we invited the gothtackular Theada B to pout, scowl, and gloom up the place…with sexiness. And candy corn. Lots of candy corn.
Vampira ain't got nothin' on her.
Molly was out "Having the surgery", so we all hope to see more of "her" next week. Luckly, I was drunk enough to provide hosting duties. I know, I'm selfless.
She wore an itsy-witsy teeny-weenie tiny black bat bikini to Dr. Sketchy's for the first time today….
It being, of course, a week from Halloween, we had reduced admission for costumed patrons.
Brooklyn street fashion being what it is, I couldn't be entirely sure what was a costume. And for the record, all the Art Monkeys wore masks to be thematic, not some werid S&M orgy. That comes later.
Even Theada joined in! (the costuming, not the orgy)
And, as inevitable as the changing of the seasons, came the contests.
The winner of a "rock and Roll Securty" T-shirt from Neighborhoodies. Just the right size!
The winner of "Best Incorperation Of a Movie Monster". The rpize? Free pass to Sweet And Nasty Burlesque, hosted by Veronica Sweet and Nasty Conasta!
I think the flash makes it seem like a depravied basement party full of zombies, or it could be that Art Monkeys just don't get enough sun.
And as the sun rises, we Art Monkeys just return to our crypts for our undead slumber. See us next week when Rock Star Lady J will takes us south of the border…for slutriness!
drsketchy.com/theadab
-JL
-----
RSS
NYC Events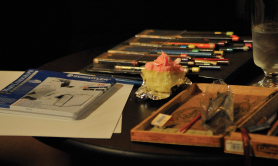 Art Tumblr
Dr Sketchy's LA 12/3/13 (pt. 1)
artofach.blogspot.com
http://drsketchy.tumblr.com/post/69132640329