Branch Blog - New York, NY
Mon, December 21, 2009 • Happy Holidays!
Today is the solstice. The days will be getting longer as the sun is reborn. No matter what form your celebration of this season takes, we here at Dr. Sketchy's wish you happiness and peace. In that spirit, Keith Jenson has made a video showcasing the previous year of Dr. Sketchy's Anti-Art School, with music by The Two Man Gentlemen Band (thetwogentlemen.com). Enjoy.
A Dr. Sketchy holiday 2009 from Spooky K on Vimeo.
Happy Holidays, and good luck in the new year.
-----
RSS
NYC Events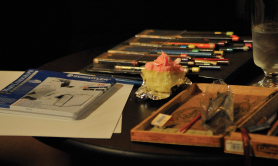 Art Tumblr
https://vimeo.com/81362468