Branch Blog - New York, NY
Fri, May 23, 2008 • Harem-Scarum
Greetings, devotees of all things Sketchy!
This week, our endless quest for the world's great arts and treasures (by which I naturally mean breasts) took us to the far-flung land of Arabia, which I understand is somewhere east of Williamsburgh. It was there that we met the great Sultan Muffinhead.
We found him reclining in his palace, as sultaning is hard work and requires frequent naps. Sultan Muffinhead is a stern but just man, and after several drinks, he agreed to take us into his harem, where he introduced us to his favourite concubine, the beauteous Amber Ray.
The couple then posed for our art students, as is the custom in the Arab world.
There was dancing and merriment, and we smoked the hookah, which is like a pipe with some sort of hose attached.
After several more drinks, the coquettish Amber Ray scandalously let her veil drop.
Later, she removed her top completely, but after the veil scene, we were no longer shocked by anything.
Our gallant artists captured every moment.
Since we were all art-lovers, the Sultan treated us to samples from his own personal collection.
This is a rendering of the famous "nursing" scene from The Book of the Thousand Nights and a Night.
This one was entitled "I Dream of Djinni With the Light Brown Hair." The artist often got punched when he told people the names of his works.
We were thoroughly smashed at this point, so I do not exactly what was going on when this photograph was taken, but I believe that this is a "rain dance" that is meant to ward off evil spirits.
Time wore on as it so often does, and the time came for us to leave. So it was with heavy hearts we bid farewell to this exotic land of mystery and wonder. Still, we would always look back fondly on the time we spent with the Sultan and the concubine in the Arabian palace.
Then, when they weren't looking, we grabbed a couple barrels of gasoline and ran.
-Syd Bernstein
-----
RSS
NYC Events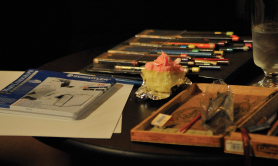 Art Tumblr
https://vimeo.com/81362468