Branch Blog - Anaheim, CA
Fri, February 22, 2013 • Having a Ball! The Edwardian Ball!
This Saturday February 23rd, Dr. Sketchy's Anaheim will be attending the annual Edwardian Ball in Los Angeles, CA. For those who don't know, The Edwardian Ball is an elegant and whimsical extravaganza of costumery, carnival, music, acrobatics, ballroom dancing and fashion; an outrageous celebration of an unforgettable era while honoring Edward Gorey, the prolific master of ominous storytelling.
While not specifically a Dr. Sketchy's event, artists and models from Dr. Sketchy's Chapter across the Nation will be in attendance to participate in the celebration that puts creativity forward and inspires future artistic adventures (and themes for future sessions). Additional Event, Ticket and photos from the 2013 San Francisco Ball is available below.
THE EDWARDIAN BALL
Presents Edward Gorey's
"The Doubtful Guest"
At The Fonda Theatre - Los Angeles
Saturday, February 23rd, 2013


LOS ANGELES, CA – Paradox Media and Vau de Vire present the award-winning Edwardian Ball on February 23rd, 2013 at the stunning historic Hollywood 1920's venue, The Fonda Theatre. Edwardian Ball co-hosts Rosin Coven and Vau de Vire Society bring a featured Edward Gorey story to life on stage with original music, theatrical choreography and narration…this year presenting one of his more mischievous, playful masterpieces, "The Doubtful Guest" – a performance interspersed with humor and darkness. It's where literary fans are as welcome as Goth clubgoers and where the high-flying trapeze and steam-powered machines create the backdrop for elegantly dressed ballgoers waltzing their way from absinthe to the dance floor.

The talent includes Rosin Coven, Vau de Vire Society, "Belle of the Ball" Jill Tracy, Dark Garden Corsetry Fashion Show, MC Vegas, DJ's Xian (LADEAD), Delachaux, Shakti Bliss, Justin Paul, Lushbunny, Mia Dangerfield, Eric Jag, as well as more acts to be announced. Plus enjoy Midway Games, Portrait Booth and DJ dancing on the Rooftop Garden.

Step into a uniquely immersive world, where turn-of-the-century meets world-to-be in a fantastic blend of performance and audience, of sights, sounds, and magic. One can expect an irreverently elegant blend of theatre, circus, live music, DJs, ballroom dancing, parlour games, steam machinery, aerial performances, obscure props, period technology, games, and fashion shows. All in attendance are invited to return to a time of well-dressed gentility by creating characters and costumes for the occasion – instilling a madhouse slapdashery of costumery by nearly every single attendee.

Since 1999, The Edwardian Ball has steadily grown from a Bay Area underground club phenomenon into a full-fledged festival of arts and culture, focusing on the esteemed works of the late, great author/illustrator Edward Gorey…bringing his tales to life on stage. Now with the blessing of The Edward Gorey Charitable Trust, the truly prodigious and original artist, Edward St. John Gorey (1925-2000), will be honored for his body of over 100 works. His legacy includes The Gashlycrumb Tinies, The Iron Tonic and The Wuggly Ump; prize-winning set and costume designs for innumerable theater productions from Cape Cod to Broadway and a remarkable number of illustrations in publications such as The New Yorker and The New York Times. He also produced illustrations for books by a wide array of authors from Charles Dickens to Edward Lear, Samuel Beckett, John Updike, Virginia Woolf, H.G. Wells, Florence Heide and many others. His well-known animated credits for the PBS Mystery! series have introduced his work to millions of television viewers. Gorey's masterful pen and ink illustrations and his ironic, offbeat humor have brought him critical acclaim and an avid following throughout the world. http://en.wikipedia.org/wiki/Edward_Gorey

Paradox Media: For over 16 years Paradox Media, owned and operated by Justin Katz, has been producing an eclectic variety of art and music events in the San Francisco Bay Area. These have included festivals such as ArtCar Fest, How Berkeley Can You Be!?, Oakland World Music & Jazz Festival, ArtFest's Spectra Ball, Mission Bazaar, and Burning Man's annual SF Decompression; independent theater with Everyday Theatre's "The Bright River" and nonprofit community events with Epic Arts. Paradox Media is the exclusive presenter of Rosin Coven, Founders of The Edwardian Ball in 1999. Katz is the bassist for Rosin Coven and a founding member of this unique ensemble. Katz also works for Goldenvoice / AEG Live, producing hundreds of concerts and special events in the San Francisco region at the Warfield Theatre, The Regency Ballroom, festivals, and arena concerts.


Vau de Vire: Founded in 1997 by husband and wife team Shannon and Mike Gaines, the San Francisco-based entertainment company Vau de Vire Society has been titillating crowds around the world with its unique brand of interactive and thematic art, dance and circus events. This avant-cabaret community consists of classically-trained dancers, some of the nation's most acclaimed acrobats, aerial artists, sideshow acts, fire-performers, thespians and beautiful circus freaks. The group has been cross-pollinating genres by collaborating with an eclectic variety of world-renowned musicians and DJs in their creation of original stage shows. Notable recent collaborators include Cirque du Soleil (Corteo), San Francisco Symphony, Bassnectar, The Dresden Dolls, Calvin Harris and The Madd Vibe Orchestra…with live support performances for James Brown, Primus, 50 Cent, Wyclef Jean, Velvet Revolver, The Cure and many other highly respected international artists. In addition to producing The Edwardian Ball since 2005, Vau de Vire is most widely recognized for their numerous music and arts festival commissions, having curated live-music stages and multi-day variety entertainment amidst their custom built environments. Past and ongoing festivals include: Outside Lands Festival, Bumbershoot Festival, Download Festival, Symbiosis Gathering, Lightning in a Bottle, Exprescion on Alcatraz, Burning Man and Super Village at Super Bowl '08. Vau de Vire's latest creation is the Inner Mission, a 600 seat music, arts and experimental theater located in the heart of San Francisco's Mission district. http://www.vaudeviresociety.com


# # #

What: The Edwardian Ball presents Edward Gorey's "The Doubtful Guest" - Presented by: Paradox Media and Vau de Vire
When: Saturday, February 23, 2013 – Doors and Show at 8:00pm – All Ages Welcome
Where: The Fonda Theatre - 6126 Hollywood Boulevard Los Angeles, CA 90028 (323) 464-0808 or visit http://www.fondatheatre.com/
Tickets: Purchase: http://www.ticketfly.com/purchase/event/181363
GA Tickets: $40
Includes main floor and rooftop Carnival, limited seating on a first-come, first-served basis.
VIP Tickets: $85
Includes all GA access plus admission to seated balcony with cocktail service and prime view of the stage.

VIP Private Booth: $500
Includes private booth with table service on the main floor, up close to stage and dance floor. One ticket is good for entire booth, up to six admissions, best seats in the house!

For more information and online tickets, please visit http://edwardianball.com and http://facebook.com/edwardianball
For more information, images, or to set up interviews with the event producers or any of the cast and crew, please contact Karin Conn at 415-507-9797 or [email protected].
RSS
NYC Events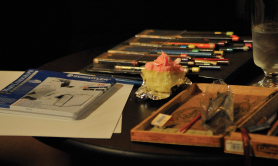 Art Tumblr
Dr Sketchy's LA 12/3/13 (pt. 1)
artofach.blogspot.com
http://drsketchy.tumblr.com/post/69132640329