Branch Blog - New York, NY
Tue, August 01, 2006 • Heatwave Of Hotness
It's hot enough to bake an egg n the sidewalk here in NYC. Sweltering and streaming Art Monkeys suffered dehydration and sun stroke to see Lady J. Can can you blame them?
Yew-ow-zah! I do belive she's made of pure Sexyonium. No only is Lady J hot, but she fronts she own band, Deaf By Stereo, which is primed to take over the world in a violent, musical coup.
Our easrtwhile art monkeys, being all …earstwhile.
Again, black and white means classy. This is a *classy* show! Except when we force people to drink cheap whiskey or pelt everyone with koosh balls.
Two winners! The latter is holding up some naughty punk rock buttons from BadButtons.com, it's HQ conviently located directly above the Lucky Cat.
The contest? Turn the model into a musical instrument. The prize? A dogtag from Engravingshack.com? The result? Odd grins from Molly Crabapple and her distrubing/sexy farmer's dress.
That's ether a high zoom or Ryan can shrink down to pixie-size to capture Art Monkeys at work.
Thanks again to The Lucky Cat, to Ryan Roman, to Kate from badbuttons.com, to Lady J, and above all, to our mothers, who suffers through labor so we could drink to excess and draw pretty girls. Thanks Mom.
RSS
NYC Events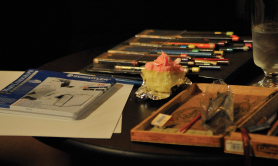 Art Tumblr
https://vimeo.com/81362468