Branch Blog - New York, NY
Thu, September 03, 2009 • Hello, Sailor!
Ahoy, Art Monkeys!
This entry is being written with a fakey Cornish accent, because last session was our nautical session. Summer may be hastening on, but it's always bikini season here at Dr. Sketchy's, with astounding model Aradia Ardor.
Like any good cruise, we have an excessive number of photographs to document our voyage, brought to you this time by both our regular photographer Justin Lussier and super special guest photographer Steve Prue! So off we go! Anchors aweigh! Whatever that means!
In an introspective moment, Aradia contemplates her own mortality. This was truly an existential sort of trip. Who says Dr. Sketchy's has no depth?
Here, Aradia is seen bending over for no easily discernible reason. All I can say to that is, "Thank you."
While at sea, Aradia switched to a plush seafood diet.
As you can see from the lifesaver, our ship was the S.S. O'Teric, named for Captain Cheri O'Teric.
John Leavitt hosted the shit out of this session.
Molly Crabapple was there, too.
Steve Walker played the music and kept the session running smoothly.
Molly said I looked like an ad for Mad Men. Oh yeah? Well, so's your old man!
I know what you're thinking, "That swimsuit is nice and all, but that string is blocking my view of the kickass tattoo on her back!" Well, your pleas do not fall on deaf ears.
Here she is with an unobstructed back.
Here, in an obviously symbolic gesture, Aradia scolds her own mortality.
Here, Aradia's mortality pulls her bikini bottom off with its teeth. I'm not sure if this is still symbolic, but I do know that it's like that skull can read my mind.
Aradia surveys the entrants for the traditional left-handed drawing contest.
And here is the prize: I've Got Your Nose by Ragnar, one of the many great works of literature available from our good friends at Baby Tattoo.
"Well, that's all well and good," you're thinking at this point, "but what happened to the clownfish?"
Don't worry! We haven't forgotten the fish! It's doing fine.
Aradia also plays the ukulele, or at least poses holding one.
As always seems to happen at this time of the evening, the rum seemed to come more and more into focus…
At this point, Kim Boekbinder and Kayla Oberlin performed, and it was way more awesome than anything has a right to be. Don't take my word for it, watch for yourself:
All For Me Grog from Spooky K on Vimeo.
And here is Keith Jenson videotaping the proceedings.
The theme for this contest was to turn the model into a figurehead. I'm surprised nobody drew her on the head of a pound coin.
Two important things to note about that last drawing: (1) The figurehead is bigger than the rest of the boat. (2) Those people sailing on the boat sure are happy.
Aradia was overwhelmed by the entrants' drawings.
And the winner got Scarlet Takes Manhattan swag!
Aradia was getting a bit sunstroked at this point and had to lie down.
During the break, Melissa, Dolcy, and I had a dance party. If you flip back and forth between those last two pictures, it's like watching us doing a little jig. It's pretty incredible. We're totally getting jiggy with it.
Here are some of the audience members who make Dr. Sketchy's worthwhile.
Sometimes, I worry that we at Dr. Sketchy's Anti-Art School don't do enough to accommodate the foot fetishists in the audience. Not to worry this time, though. Steve Prue has you covered.
In these candid backstage photos, we can see the real Aradia, when she's not in her onstage persona. As you can see, the real her is hot, too.
Then Aradia was captured and bound by her own mortality. That has to be symbolic.
Steve came to the rescue, untying her and ruining everyone's fun.
The winners of the drinking contest enjoy their rummy prize.
Here, Justin Lussier is in front of one camera and behind another one. Excuse me. Did I just blow your mind?
Steve and Molly are plotting against me behind my back. They don't know I'm onto them.
I think this picture of the bartender in a crash helmet and stilts is pretty self-explanatory.
Sadly, this session was John's last for two months. In the meantime, I will be taking over hosting duties. In light of this, John and Molly thought a sort of "Passing the Torch" ceremony was in order. Here is the ceremony in photographs:
That is all we have time for in this entry. I am too tired to thank everyone I should, so instead, I will point out that I am not thanking Friedrich Nietzsche, Ralph Waldo Emerson, or Ayn Rand. To everyone else, thank you, and I'll see you next time!
-----
RSS
NYC Events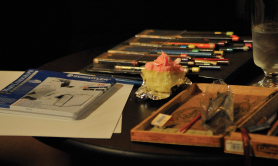 Art Tumblr
https://vimeo.com/81362468