Branch Blog - Baltimore, MD
Mon, July 12, 2010 • Henry VIII, Mel Brooks, and Katia B.
I spent about half an hour thinking up bird puns, and like most puns, they sounded stupid. So let's just go with "wow". Katia B. had some amazing costumes last session, even when it was just some stockings and, errr, a little bit of tape. Pretty hot. That bird costume made me wish I was drawing - the pose looked like it would have been good fodder for a Fables cover or something. Before everything got rolling we had our haphazard trivia question (after a couple false starts) for a free drink from Holly at the bar and then we were off and rolling with the 1 & 2 minute poses.

Brian Dugan

Ben Carnow

Liz Beetem
Our first contest of the evening was a throwing star duel to the dea . . . was the opposite hand drawing contest. If you're right-handed you draw with your left hand, if you're left-handed you draw with your right, and if you're ambidextrous you get a god damn pony mailed to your house in a cardboard box because ain't you something special. The prize was two mystery concoctions from Holly behind the bar. No one fell over afterward, so I think that means Holly was in a benevolent mood . . . or does that mean she was in a bad mood?

Ben Carnow
Afterward there were three more 5 minute poses . . .

Ben Carnow

Liz Beetem

Brian Dugan

Megan Sawyer

Megan Sawyer
Following a short break to give folks a chance to snag a drink and lie to a loved-one at home, we launched into the 10 minute poses, the first of which was the random noun contest, to which someone shouted out "Sacagawea". The winner received a $15 gift card from
Atomic Books
which up in Hampden on the corner of Falls Rd and the Avenue. Check 'em out. If you like Dr. Sketchy's, it's in your DNA to like Atomic Books.

Ben Carnow

Liz Beetem

Brian Dugan

Megan Sawyer

Liz Beetem

Ben Carnow
Next was a 20 minute pose contest was the best incorporation of a Mel Brooks movie since the 28th was his birthday. The two winners got a big sketchpad and a small pocket sketchpad from
Artist & Craftsman Supply
, your friendly neighborhood art supply store just across the street on Howard and North if you suddenly realized you forgot all your pencils and charcoal on the way to Sketchy's.

Brian Dugan

Liz Beetem

Ben Carnow

Megan Sawyer
The last contest of the evening was the best incorporation of Henry VIII since it was his birthday as well. The winner received
Artist Sisters: Box of Stories
by CJ Metzger and Miss Mindy from
Baby Tattoo Books
.

Brian Dugan

Ben Carnow

Liz Beetem
By the way folks, we haven't mentioned a couple common sense things in awhile and this is as good a time as any to refresh them. Please don't take over more than one seat, i.e., don't sit down in one chair, set your pencil box in a second, your drink on a third, and your hamster on a fourth. Now, if you're saving a seat or two for a friend for a little bit, that's fine, we're just talking about making three or four people sit rows behind you because you piled your stuff all helter skelter. If you need somewhere to pile-up some stuff, there's a table by the stage. On a similar note, the tables are meant for two or three. Think candle-light dinner with a new or old friend while whispering sweet-nothings over a plate of pastie-endowed charcoal sketches.  And if there's three of you . . . umm, think inevitable, awkward, post-threesome "we need to talk" dinner in a neutral place. So, consider yourself forewarned, 'cause, I'm telling you, you don't want to make Alexis say something, cause if she does, she's going to make more noise than two skeletons making love in an aluminum coffin. (Okay, I admit it, I heard that phrase in a movie at a Mondo Baltimore night a couple nights ago and I've been dying to use it. Still, don't do that stuff.) Anyways, a bazillion thanks to Katia B. for doing an amazing job modeling for all us; thanks as well to our fabulous sponsors Atomic Books, Artist & Craftsman Supply, and Baby Tattoo books for providing prizes for your contesting pleasure; thanks to Holly of the Windup Space for slinging the booze/music; thanks to Jeff for the great photos you see above; and last but not least, thanks to Alexis for MC-ing and all the other stuff she does. Monday, July 12th, TOMORROW, is the next Dr. Sketchy's with Mourna Handful. Look at that flyer . . . tell me you don't want to draw her in that dress and I'll call you a liar to your face.  That amazing photo is by Elise of
Strereo Vision Photography
, just so you know.
Doors at 6, start at 7! Bring your pencils and your best bad french accent! Umm, unless you use watercolors or charcoal or crayons...then, uh, bring that stuff instead.
RSS
NYC Events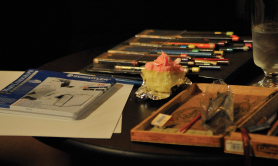 Art Tumblr