Branch Blog - Baltimore, MD
Mon, March 05, 2012 • He's got legs—-he knows how to use them!
That right there may very well be my favorite pose I've ever seen. If you told me you've had the opportunity to draw something like that before, I'd call you a liar to your face. LIIIIIAAAAAR. I love how you can see the stars shining though the wings from the back, too. Fucking beautiful. Man, if Paco Fish had toppled, he would have taken out the banners, Alexis, everyone in the first two or three rows---it would have been like the Hindenberg coming down. You have to picture it in slow motion, arms flapping, and someone screaming a deep, distorted, "NOOOOOOOOO!" Alexis took one look and said, "Oh my God, it's like . . . like . . . a burlesque Batman!" Let's not get ahead of ourselves though: first, there were the 1- and 2-minute poses, and a nearly overpowering urge to make some sort of Heroes ref
erence.
Cecilia Strakna
Cecilia Strakna
We took a quick break so Paco could get a breather and folks could grab a beer (hopefully a Flying Dog one), and then it was time for the 5-minute poses. The first one was the ol' opposite hand contest, where if you're right-handed you draw with your left, if you're left-handed you draw with you're right, and if you're ambidextrous you get shivved. The two winners received a mystery shot from the bar---God help them.
Cecilia Strakna
Cecilia Strakna
John Schloman
John Schloman
After another break, we jumped into the 10-minute poses, the first of which was a best incorporation of "Black Friday." The winners received either a Sticky Buns Burlesque t-shirt or a limited edition Ralph Steadman tote bag from Flying Dog Brewery.
We took another break, and then it was time for Paco's performance. I'd show you a video, but sadly, the video camera's battery died, so you're out of luck. Here's a photo or two, though...
Then it was time for the 20-minute poses, the first of which was our last contest of the evening: the best incorporation of The Exorcist. The winner received Overkill: The Art of Tomer Hanuka from Atomic Books.
Last 20-minute pose of the evening...
Cecilia Strakna
John Schloman
And that was a wrap. Thanks to Paco Fish for doing a stunning job of posing for all of you; thanks to our sponsors Atomic Books, Flying Dog Brewery, and Baby Tattoo Books; thanks to Jeff for the photos you see above; thanks to Styger for helping at the door and helping push things around; thanks to Fred for helping push things around too; and thanks to Alexis for manning the mic.
RSS
NYC Events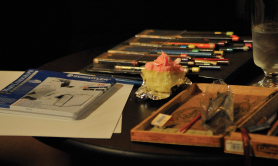 Art Tumblr
The results of tonight's Dr Sketchy's session :D
http://drsketchy.tumblr.com/post/69489605480